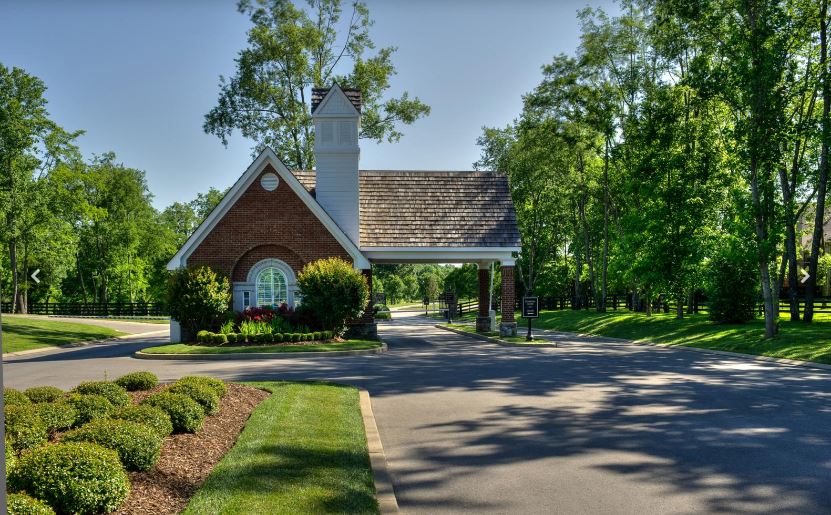 There aren't many manned gated communities in Williamson County. There's the Governor's Club, LaurelBrooke, Troubadour, and then there's Kings Chapel. Of the gated communities offering 24/7 security, Kings Chapel is the most affordable. Beyond affordability, there are other pros and cons when comparing Kings Chapel to the other WilCo neighborhoods offering guard-gated service.
Kings Chapel is Remote
The first fact that sticks out when looking at Kings Chapel is that it's located in a remote area. You can drive to Cool Springs in about 15 minutes, where you'll find lots to eat, do, and shop, but locally, options are limited. Nearby you'll discover Arrington Vineyards, a fire department, lots of churches, and farmland. In Triune, there's also a Tractor Supply Center and a few specialty stores, but that's about it.
While living somewhere quiet and remote isn't for everyone, it is for some someones. Life in Kings Chapel offers a different pace. The neighborhood is surrounded by trees and spans 700 acres, with 300 acres designated as conservation areas. There's also a fishing pond, walking trails, creeks, and other opportunities to enjoy nature.
Builders in Kings Chapel
Meadowbrook Blvd divides the community into two sections. To the west, you'll find Ashby Valley Lane and Registry Row. The homes built on these streets sit on larger lots. To the east of Ashby Valley Lane, you'll find semi-custom homes.
Approved builders include Drees Homes, Tennessee Valley Homes, Cadence Construction, RL Builders, Old South, Gregg Homebuilding, and Legacy Homes.
Drees is building several floorplans in the neighborhood, including Oakdale, Colton, Elmsley. Ballentine, Belterra, Belvidere, Wilshire, Somerville, Marabelle, Rutledge, Morrison, Elmsdale, and Dresden. The plans range from 3,544-5,276, with the larger floorplans offering 6 bedrooms and 6.5 baths.
Tennessee Valley is offering both custom and semi-custom homes in Kings Chapel. Floorplans include The Maxwell, The Shelby, The Scottsdale, The Russell, The Hardeman, and The Everly.
Lots in Kings Chapel
There are still plenty of opportunities to build in Kings Chapel. There are vacant lots left in the current phase and future phases to be released.
Interestingly, while I divided the neighborhood into two sections based on lot size, it cannot be divided by builder. The map below of Kings Chapel section 12 illustrates what I'm trying to say well.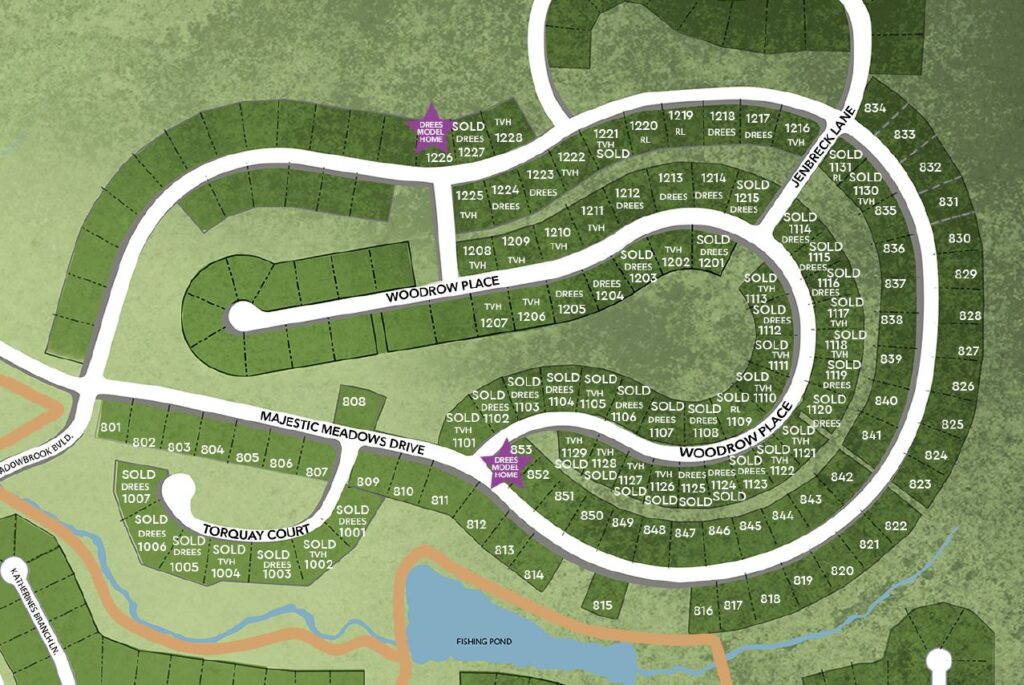 As you can see on this map, along Woodrow Place, Majestic Meadows Drive, Torquay Court, and Jenbreck Lane there is a mix of builders, including Drees, TVH (Tennessee Valley Homes), and RL (RL Builders).
Kings Chapel Amenities
As mentioned, Kings Chapel is gated with a guard house, walking trails, a stocked fishing pond, and plenty of nature to enjoy. There's also a restored chapel, an outdoor activities field, and the Club of Kings' Chapel. The Club has a restaurant, fitness center, party cabana, and a heated saltwater swimming pool.
Beyond the amenities, Kings Chapel also has several fun community events, including wine tastings, food truck night, a Fourth of July parade, and a community Easter egg hunt. If you want to scroll through events past and future, you can do so here.
Kings Chapel Amenities Gotchas
Regarding amenities, there are four gotchas I want to make sure you're aware of:
First, membership to the Club is required, and the initiation fee is paid at closing. The fee is $7500, and those building new construction can usually get the builder to pay this fee. In addition to the required membership fee, there is a restaurant minimum of $75 per month and monthly HOA dues.
Second, a new neighborhood called High Park Hill is being built down the road, and those who live in High Park will share access to the Club of Kings' Chapel.
Third, if you are highly security minded, you might be disappointed by the current gate situation. Since there are still model homes in the neighborhood, anyone can get by the guard during the day. In fact, the last two times I visited Kings Chapel, the gate was open, and I was waved on by. I suspect this will change once the neighborhood is built, but neighborhood access will remain available to both Kings' Chapel and High Park Hill residents.
Finally, there are only a few sidewalks in the neighborhood. I had missed this fact until driving down Kings Camp Pass one day and wondering why the road was filled with little ones on bikes. I then realized there was nowhere else for them to ride! The good news is that being a gated community means there will be no through traffic, but sidewalks are an essential safety feature in all communities, including gated ones.
What do you think? Let us know if we missed anything, and if you have any questions, we would be happy to answer them.
Primary Photo Courtesy of Kings Chapel