Building a home can be overwhelming without proper guidance, yet we've seen multiple buyers attempt (and later regret) going at this process on their own. In this article, we explore 7 reasons you need real estate agents for new construction and we bust one common myth.
1. Knowledge of the Local Real Estate Market
Okay, this one may seem obvious, but as much time as you spend dream scrolling through Zillow, a REALTOR's job is scrolling through Zillow and the MLS, trend reports, and, of course, actual visiting actual houses. Nothing can replace the experience of, well, experience! Our job is to know the various neighborhoods, school districts, and local amenities that can affect value. If you plan on buying land and building on your own, our market knowledge can also help you find the best deals on land and construction costs. We can advise on factors influencing property value, such as zoning laws, flood zones, and community developments.
Noelle once worked with a buyer in Florida interested in new construction on Okaloosa Island. She had a scheduling conflict one afternoon and sent them to take a look at a new construction opportunity on their own with the advice that they should not buy in that area due to their commute needs and as prices were overinflated and growth was happening toward 30A—a beach that was, at the time, quiet, rural, and hard to sell. They did not heed her advice. They bought not only one but two new construction condos through the onsite agent. A year later, when they closed, the buyers called her, expressing their regret and saying they wished they would have listened to her advice as everything she had shared about the area and 30A was true.
2. Negotiating the Best Deal + The Myth of Saving Money By Going Direct
Let's just knock out the number one myth we hear from those we talk to: the belief that going direct to a builder equals a discount on the house. This is false. Without an agent representing you, you will pay the same as everyone else while taking on the role and responsibilities of a buyer's agent.
Cutting out the buyer's agent does not mean the builder will reduce the price of the home, especially if the home or land you're interested in is already listed on the MLS (multiple listing service). We know this to be true from our experience and those around us.
Before we had active licenses in Tennessee, we represented ourselves on three new construction purchases in the Nashville area. Even though Noelle had a Tennessee license when we made these purchases, she was not paid, nor was the sales price reduced as her license was in "retired" status. Instead, the builder's agent received double the commission and we did work of a buyer's agent.
As agents, we have experience working with home builders and we know the value of using real estate agents for new construction. We also know how to navigate the negotiation process to ensure you get the best possible deal. We can help you identify areas where costs can be reduced, such as materials, labor, and financing options, and negotiate with the builder to secure these savings. Additionally, we can negotiate contract terms that protect your interests, such as timelines, warranties, and dispute resolution clauses. With us on your side, you can rest assured that you are getting the best deal possible and that your interests are protected throughout the building process.
3. Access to Exclusive Listings
Do you know what else an agent can help you with? Inventory. Agents, ourselves included, often have access to a network of off-market properties, land deals, and new construction developments not listed on public websites.
As a perfect example, last year, we met someone who had been looking for a specific piece of land in Nolensville for a couple of years. He gave us his criteria, and we went to work. We had conversations with multiple contacts in town, and a few months after our initial meeting, we found him exactly what he wanted. In the end, when presented with the perfect property, he realized he actually wasn't ready to buy (thus is real estate). But the point of this story is that we can help you find the perfect property or builder, even if that means that we spend months hunting for you.
4. Access to Professional Network
When you use us as your real estate agents for new construction, you gain access to our vast professional network. We have established relationships with builders, architects, lenders, and other industry professionals that can benefit you during the home-building process. Our network allows us to provide referrals to trusted professionals and ensure that you work with reputable service providers. This can help streamline your home-building process and ensure everything is completed on time and within budget. Our professional network can also help you find the best financing options for your project. In short, we will give you access to the right people to get the job done.
5. Understanding Contracts and Paperwork
Building a home involves a lot of paperwork and contracts, which can be complicated and overwhelming. Below is a screenshot of some of the paperwork we have been working through for one of our sweet new construction buyers for the past month. In this case, her questions to the builder about paperwork have often gone unanswered, and we've been there to walk her through the process and assist where we can.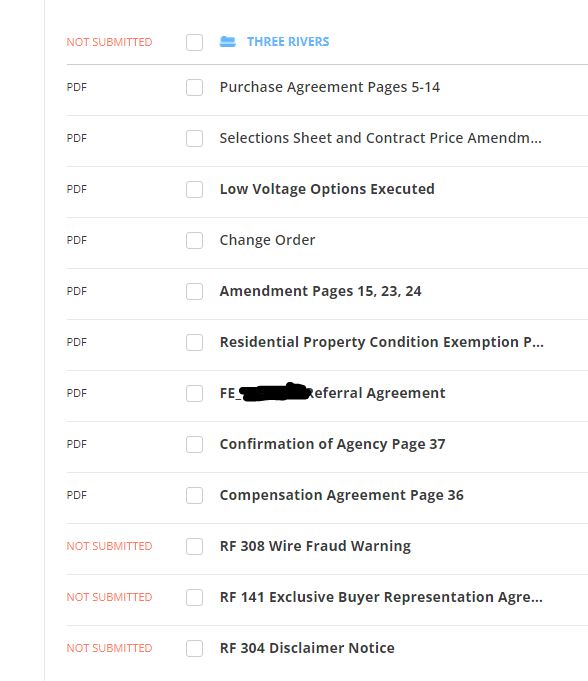 During the new construction process, contracts and paperwork may include construction agreements, building permits, zoning ordinances, and more. While we are not attorneys, we can help keep everything organized and also help you stay on top of critical contractual deadlines, helping the project stay on track.
6. Experience with the Home Building Process
Having an agent experienced in home building can be a huge benefit when building a home. We can help you avoid common pitfalls, anticipate potential problems, and keep the project on track. We can also help you understand the project's timeline, ensuring you are informed at every step. We can also use this experience to help you identify areas where cost savings can be made without compromising the quality of the finished product, helping you get the most value for your money. And yes, we will be there every step of the way.
7. Troubleshooting and Problem-Solving
During the home building process, various problems can arise, such as construction delays, cost overruns, permit issues, and design changes. These problems can be challenging to navigate and cause delays and additional costs if not handled properly. It's essential to have someone with experience and expertise to troubleshoot and solve any issues during home-building. A real estate agent with experience in home building can help you anticipate potential problems and provide solutions to help keep the project on track.
One of our specialties? Blue tap walkthroughs. You won't believe how many items we've caught before closing, thus saving our clients from the headache and time involved in trying to get post-closing repairs. Trust us when we say that having workers in your new house tearing things up and usually causing new issues along the way is not an experience you want to have.
Using Us As Your Real Estate Agents for New Construction
As agents, we can provide customized assistance by listening to your needs and preferences, understanding your goals, and tailoring our support to help you achieve your goals. From choosing a builder to ensuring your move-in day is as smooth as possible, we're there every stead of the way and we would love to be your real estate agents for new construction.