The Grove at College Grove is an amenity-rich neighborhood. Of all the communities in Williamson County, it feels most like a high-end resort. For those who want a luxury, live/play environment with gated security, The Grove offers an incredible opportunity but, as with most things, there are pros and cons to buying in The Grove. Let's review.
Two Sides, Multiple Builders
The Grove is located in College Grove, TN, and offers a resort lifestyle complete with a clubhouse. Two main and two side gates make it appear that there are two sides to the neighborhood, but behind the gates, the community is interconnected, and both sides share access to all amenities.
While you will find move-in ready homes in The Grove, there are still limited opportunities to build custom. The final homesite release includes lots of .4-.8 acres. Homesites range from 445K to $1.2M. The picture below shows the last lots available in The Grove at College Grove. And while you are certainly welcome to call their sales team, we invite you to contact us for representation at 615-809-4336.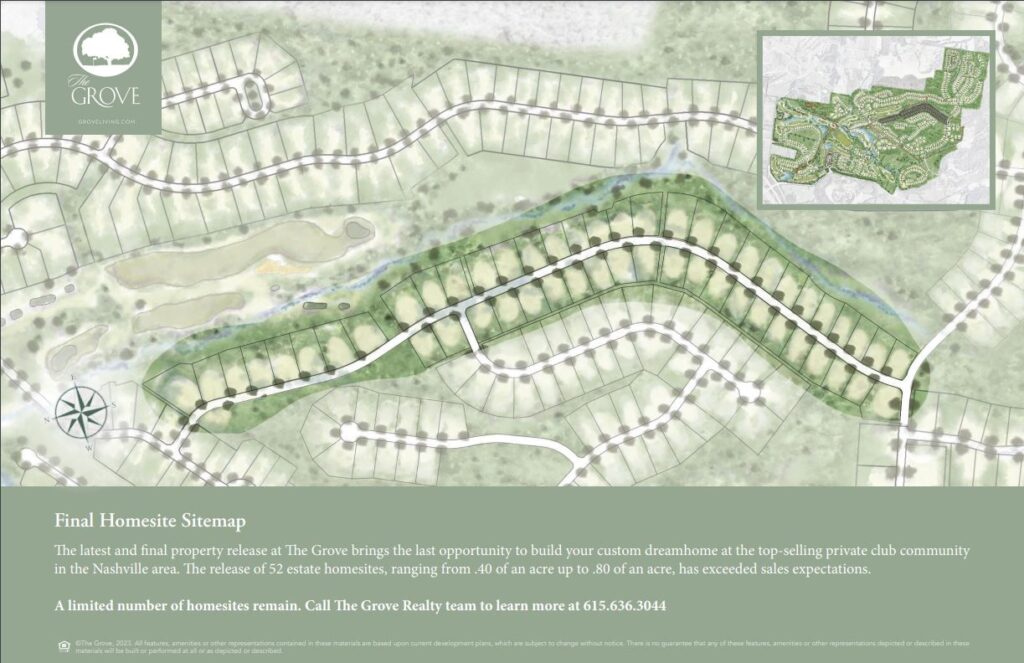 As all of the builders in The Grove are custom builders, the cost to build will be on the higher side. I estimate you should budget at least $500 per square foot with a strong emphasis on at least. Approved signature builders include Beasley Construction, Ford Classic Homes, Davis Properties, Hatcliff Construction, Legend Homes, Luna Custom Homes, Stonegate Homes, and Trace Construction. Build-out time in The Grove at College Grove is under two years at the time of writing.
One "gotcha" I would offer potential buyers is to be aware of when a home was built. It's my opinion, not necessarily a fact, that some builders got a bit sloppy during the buying frenzy we experienced in 2021 through early 2022. With properties selling before they hit the market and for well over the asking price, builders were pushing hard to keep up with demand which in some cases impacted quality.
Magnolia Park
While you will find large, custom homes throughout The Grove, there is a section of more "affordable" homes on the south side of the community called Magnolia Park.
Magnolia Park circles around The Gathering Place amenity center near Belladonna Drive. The homes in this section of The Grove are priced around $2M. They differ from the other homes in the neighborhood in that they sit on smaller, quarter-acre lots and are built with low-maintenance living in mind. The houses share consistent craftsman-style architecture, including plans that feature two-car garages, 4 or 5 bedrooms, and 3,000-4,000 square feet of living space.
Some of the homes in Magnolia Park back up to The Gathering Place. If you want to feel like you're on a 24/7 vacation, one of these lots will create that feeling. The downside is that there will be noise. The pool will have plenty of activity during the summer, for example, and there's also a pickleball court. If you want to hear the sounds of pickleball being played from the back porch of a Magnolia Park home, click here. While I could not hear the pinging of the pickleball inside the home, it's audible from the yard and porch, which is something to consider.
The Grove at College Grove Amenities
I think I've made it clear that the amenities offered in The Grove at College Grove are vast, but let's dive into the details.
The Gathering Place
The Gathering Place on the south side of the community near Magnolia Park is one of the main amenity centers. The Gathering has two lighted tennis courts (striped for four pickleball courts), a swimming pool, a playground with cushioned rubber matting, dedicated restrooms, indoor and outdoor showers, and a restaurant called Bridge Bar.
Dining
Bridge Bar is one of many restaurants at The Grove at College Grove. There is also the Manor House which offers fine dining and serves breakfast, lunch, dinner, small bites, and made-from-scratch desserts. There is also Trellis Dining at the main sports centre. (Trellis is open seasonally and serves poolside snacks for lunch and dinner.) Finally, the Smokehouse Pavilion overlooks the practice range between the golf course's front and back 9 holes.
The Manor House
Near the primary gate, you will find The Manor House. It's not just a restaurant; it's a private clubhouse home to the Manor House restaurant, Rosemary Spa, professionally staffed fitness center, movement studio, meeting rooms, wine cellar, and the pro shop.
The Grove at College Grove Sports Centre
The other pools are located at The Grove Sports Centre. There is a competition lap pool, a zero-entry pool with a waterslide, and covered gazebos. The pool, bar, and dining service are open seasonally.
Racket Sports
While The Gathering Place is home to two lighted tennis courts, there are three other lighted, plexicushion tennis courts in the neighborhood.
In the neighborhood you will find:
Playmate ball machines for solo practice
A junior and adult social activity calendar
Private and group lessons
Tennis and pickleball camps
Multiple leagues for both pickleball and tennis
Instruction, play, and tournaments
Fully-equipped racquet shop
Certified, professional tennis staff
Equestrian Services
On the north side of the community, you will find a road called "Native Pony Trail." This road wraps around a community pasture where residents can interact and view the friendly neighborhood horses.
Equestrian Services in the neighborhood are available through a partnership between The Grove and The Jaeckle Centre.
According to groveliving.com, "Residents of The Grove have access to boarding and grooming services for their horses as well as equine therapy and rehabilitation equipment monitored by a team of veterinarians and accomplished equine professionals. And, of course, trail rides are tailored for every experience level from beginner to expert."
Trails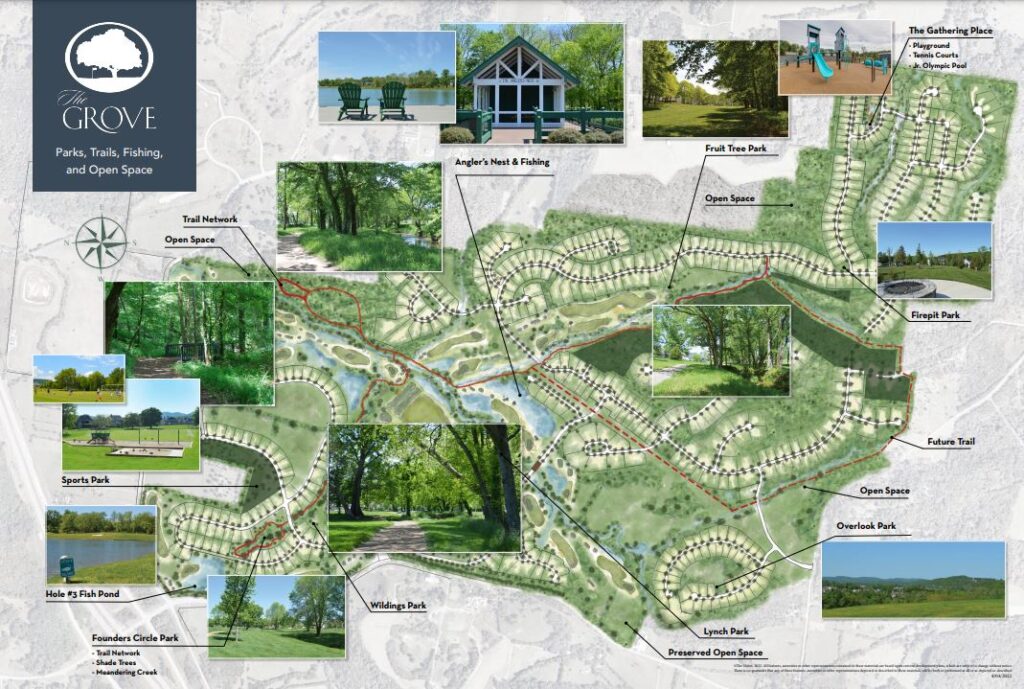 With miles of walking trails, sports fields, and over 60 acres of open space, The Grove at College Grove offers plenty of healthy outdoor living opportunities.
How many parks are there? There are lots.
Take a picnic to Founders Circle Park and enjoy a peaceful escape beneath the shade trees and alongside the tranquil creek bed.
Step into Wildings Park for a ballgame and views of hole #1.
Bring out your competitive side at Sports Park, where you will find a sandpit for digging, swings, a carriage climbing structure for the little ones, an open field with soccer nets, and a batting cage for older kids.
Gather your friends for a game of flag football at Lynch Park.
For breathtaking views, try out Overlook Park. Perched at the peak of Sawtooth Lane in Phase 10, Overlook Park features a small, paved landing with seating to admire the rolling countryside.
Finally, there's Fishing Camp Park. Fishing Camp Park is one of the places you can enjoy catch-and-release fishing in The Grove.
In short, if you want to spend time outdoors, there's ample opportunity.
Experiences + Discovery Kids
Finally, The Grove hosts annual events, including live music, lessons, holiday events, and golf events. There is also a club called Discovery Kids Club.
Discovery Kids focuses on creating experiences for the youngest residents of The Grove. Kids can enjoy arts and crafts, scavenger hunts, golf, tennis, swimming, and daily outdoor adventures through planned activities.
One unique feature of Discovery Kids Club is that they plan activities around scheduled and unscheduled school breaks. During the summer months, they even offer summer camps.
Golfing at The Grove
Golfing is a main attraction at The Grove at College Grove. You can read all about it here, but one thing to note is that it's not necessarily included for residents. What you can do while living in The Grove will depend on your chosen membership path.
Membership Fees Impact Amenity Access
The wealth of amenities in The Grove creates an expense for those who live there. Maintenance of the shared amenities is funded through a membership fee, monthly HOA dues, and an exit fee.
Your membership fee will be paid at closing, and you can choose between a Sports Membership and a Golf Membership.
A Sports Membership offers access to pools, parks, tennis, kids' club, hiking, fishing, equestrian services, and the fitness center. Sports Membership is 50K at closing and $296 per month.
A Golf Membership provides access to all club facilities, including the 18-hole Greg Norman Signature Course and practice field. A golf membership provides programs, social activities, and clinics for all skill levels and ages. The golf membership is 100K due at closing. After that, you can maintain your membership for $856 per month.
Finally, as mentioned, there is an exit fee that the seller pays when reselling in The Grove. I am still determining the exact numbers on this, but I have heard from a local closing attorney that the exit fee can be as high as 15K.
If you want to schedule a private tour of The Grove at College Grove, give us a call!
The two maps presented on this page are property of The Grove team.