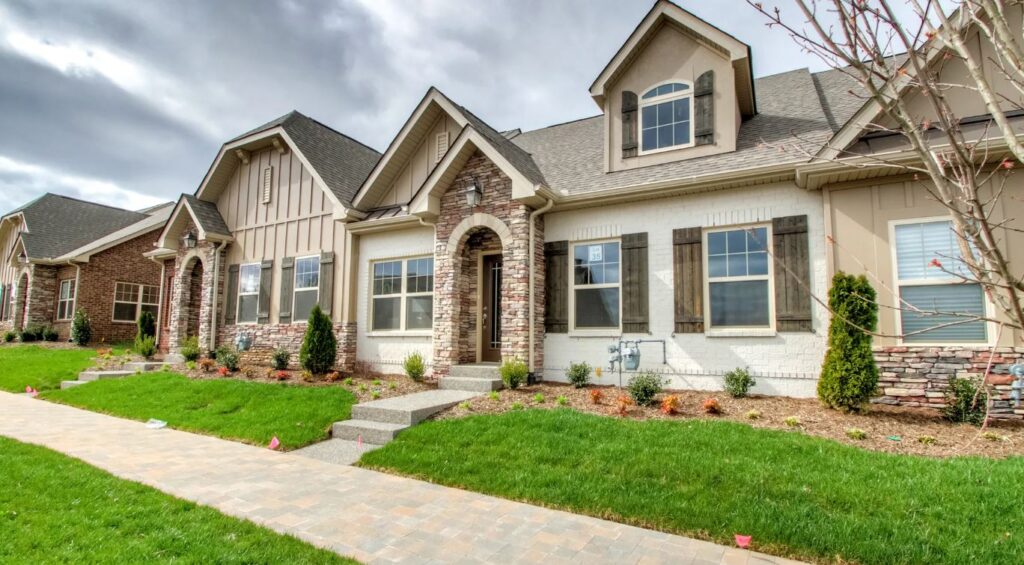 Goodall attached homes can be found in Nolensville's Bent Creek and Nolen Mill communities.
Tennessee is an attractive destination for the 55+ community. With four seasons, no state income tax, and nearby world-class healthcare facilities, it's no surprise that our market is flooded with people moving from out of state. For those considering the move, Williamson County is one of Tennessee's most sought-after and affluent areas. Within Williamson County, there are multiple 55+ communities, including two active adult communities in Nolensville, one in Spring Hill, and three in Franklin.
Active Adult Communities in Nolensville, TN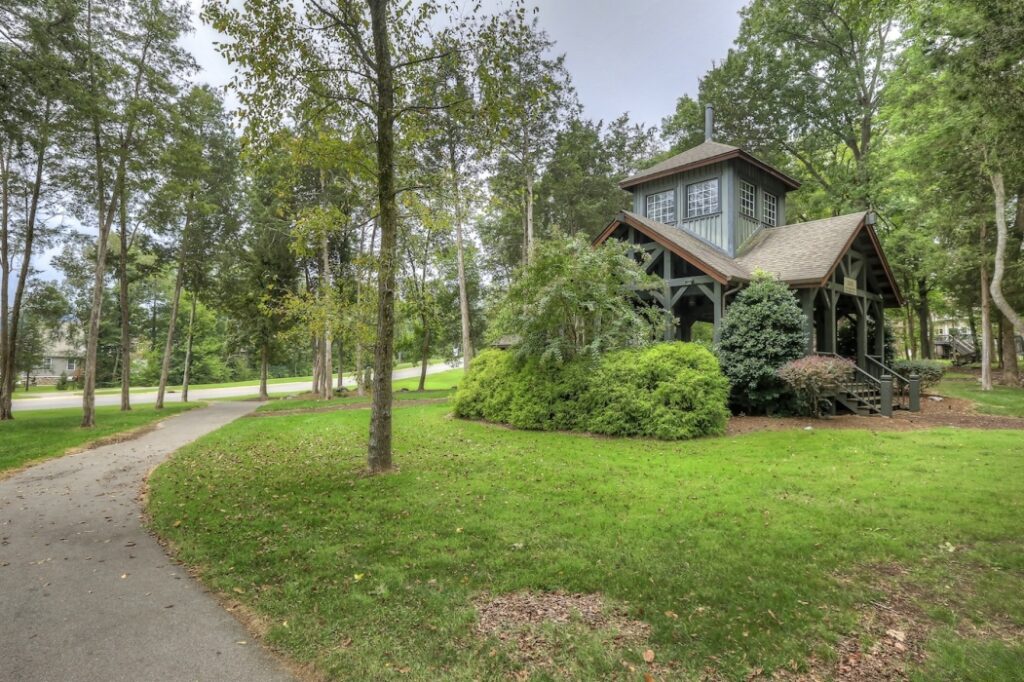 Bent Creek has many lovely walking trails.
The Cottages at Bent Creek / Bent Creek Active Adult
Built in 2015, the Cottages at Bent Creek (Bent Creek Active Adult) offer two and three-bedroom, low-maintenance, attached homes. The homes were built by Goodall and offer amenities like no-step entries, wider doorways, two-car garages, and access to all Bent Creek's amenities, including trails, the clubhouse, pool, splash pool, basketball court, and playground.
With home sizes ranging from approximately 1300 to 2147 square feet, the cottages are manageable for those who want to spend their time having fun, not cleaning the house. The HOA makes homeownership even simpler by covering many of the usual homeowner hassles like exterior maintenance, grounds maintenance, and maintenance on shared community amenities. At $220 per month, the HOA dues are on the higher side, but they also include blanket all-risk insurance. The insurance covers the outside portion of the homes, while homeowners are responsible for carrying their own contents insurance. Owners are also responsible for maintaining their homes' inside, courtyards, doors, windows, driveways, gates, AC units, bushes, and trees.
The Cottages at Nolen Mill
Also built by Goodall, the Cottages at Nolen Mill is Nolensville's newest 55+ active adult community. There are 79 attached homes in the community and four floorplans ranging from 1411 to 2107 square feet. As Bent Creek and Nolen Mill share the same builder, many of the home's features are identical. All the floorplans at The Cottages of Nolen Mill are built for low-maintenance living with two and three-bedroom floor plans, no step entries, wider doorways, and two-car garages.
While Nolen Mill does not offer the same level of amenities as Bent Creek, there is access to a walking trail. Off the Nolen Mill trail, there is a small, gated area for dogs. Owners in the neighborhood have shared that the dog park is best for little dogs. And on that note, anyone who wants to move to an HOA-managed community with pets should be aware that most 55+ communities, including both active adult communities in Nolensville, restrict pet ownership. Owners are restricted to two pets per household, usually limited to dogs and cats. Also, the HOA can ban pets that are a nuisance.
The benefit of having fewer amenities in Nolen Mill is lower HOA dues which is one advantage Nolen Mill has over Bent Creek. The dues at Nolen Mill are $125 per month and include exterior maintenance, grounds maintenance, and maintenance on shared community amenities.
We reached out to a resident of Nolen Mill's 55+ community and asked her what she likes best about life in Nolen Mill. She shared, "Where do I begin? My neighbors are amazing. We have all kinds of social activities such as bunco, Arrington Vineyards, and Porkbelly gatherings. It's quiet, central to everything, and of course, no exterior maintenance! We're having a Cinco de Mayo street party with a food truck and bouncy house for any children who come. The other community-wide event is a chili cook-off in the fall."
55+ Communities in Other Areas of Williamson County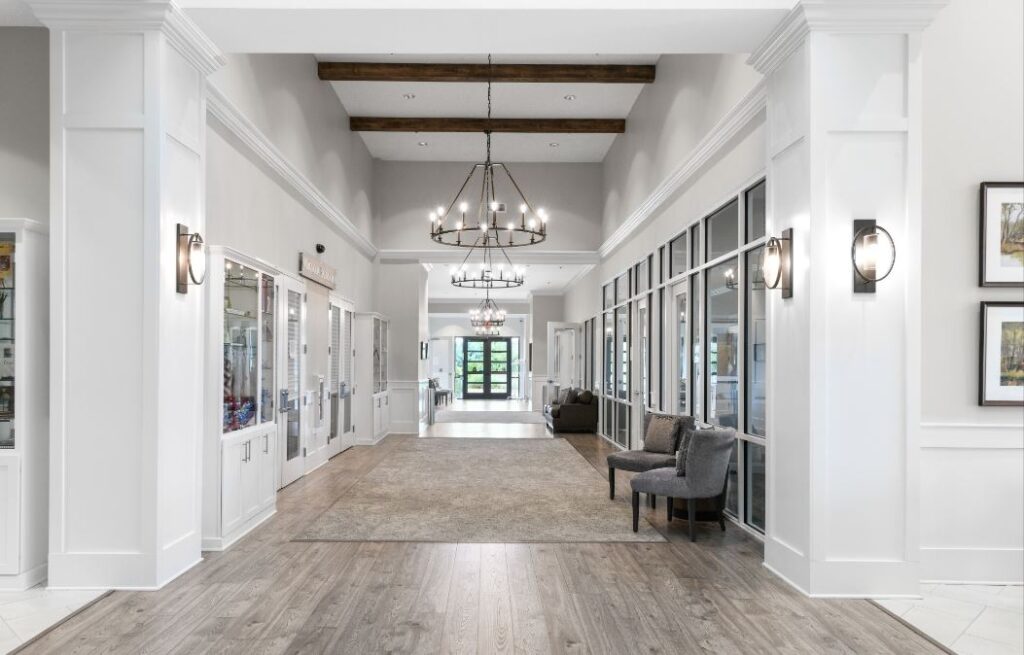 The Lodge at Southern Springs offers residents year-round amenities.
Del Webb Southern Springs in Spring Hill
Matthew and I do not provide real estate services in Spring Hill, but this article would be a miss if I failed to tell you about Southern Springs. With 802 homes, Del Webb is the largest age-restricted neighborhood in Williamson County, designed for low-maintenance living with resort-style amenities. In fact, it's the only active adult community in Nolensville or WilCo offering resort-level living.
Homes in Del Webb Southern Springs start at $586,000 and top $1,000,000. The more expensive homes are generally located in the built-out Estates section of Del Webb's Southern Springs. Other parts of Southern Springs are still under construction offering new construction opportunities and resale for those who want to buy in the neighborhood. That said, if you're interested in Spring Hill, we know several fantastic REALTORs who specialize in Spring Hill, and we would be happy to refer you to someone who knows Spring Hill as well as we know Nolensville.
Unlike the other active adult neighborhoods in Williamson County, Del Webb offers detached single-family homes with 2, 3, and 4-bedroom floor plans. Homes in the neighborhood range in size from 1263 to 3000 square feet with two-car garages, single-story living, and no step entries.
Southern Springs residents enjoy ample planned activities, thanks to the full-time, onsite events director, including movies on the lawn, concert series, and other gatherings. Circling back to the neighborhood's amenities, the newly opened Lodge at Southern Springs features a fitness center, yoga studio, ballroom, and breakout rooms for small groups. The Lodge sits adjacent to the zero-entry outdoor pool and hot tub. An indoor lap pool provides entertainment through Tennessee's colder months, while two grills, restrooms, locker rooms, a dog park, walking trails, and a fire pit round out the list of completed amenities. The developer has plans to add additional amenities, including four tennis courts and eight pickleball courts to the community.
HOA dues at Southern Springs run about $274 per month and include amenity access and grounds maintenance.
Windsor Park at Fieldstone Farms in Franklin
Built in 1998, Windsor Park is attached to the larger Franklin community of Fieldstone Farms. The duplexes sit along Alton Park Lane near Franklin Fire Department Station 4 and across the street from Harpeth Village. Residents can walk across the street to grab groceries from Publix or a meal from a local restaurant, including Miso and Bricks Cafe.
In addition to enjoying walkability, Windsor Park residents have access to Fieldstone Farms amenities, including the pool, fitness center, walking trails, and tennis courts. All amenities are included in the $260 per month fee, which also covers ground maintenance.
Reid Hill Commons in Franklin
Reid Hill Commons offers low maintenance, attached homes with no step entries and two-car garages. I believe all the floorplans are two bedrooms, two baths, and one level with sizes in the 1500-2000 square foot range.
Different from the other communities on this list, there are few neighborhood amenities to speak of in Reid Hill. However, the community is near historic downtown Franklin which offers plenty of shopping and dining entertainment. The HOA fees run around $238 per month and include exterior maintenance, pest control, exterior insurance, and grounds maintenance.
The Villages of Morningside in Franklin
Finally, the Villages of Morningside is an active adult community with access to multiple neighborhood amenities, including a community clubhouse, pool, and tennis courts. Access to all amenities is included in the $225 per month fee, covering exterior maintenance, grounds maintenance, pest control, and trash pickup.
Floorplans include two and three-bedroom units with one-level living though some plans include an upstairs bonus room. All the homes have two-car carports, outside storage, and patios.
A Couple of Gotchas Before You Buy in a 55+
If you're looking at active adult communities in Nolensville, give us a call, we would love to show you what our town has to offer. With that said, let me leave you with some food for thought: The benefits of being in an active adult community are apparent: You live life while someone else takes care of most of the hassles of home ownership. The flip side of giving up control is giving up control.
All of the 55+ communities above are HOA-managed, and all of the HOAs place restrictions on their homeowners. In many cases, the restrictions placed by HOAs in 55+ communities are more constraining than non-55+ HOA regulations. While each HOA is unique, below is a list of some of the standard rules we've seen placed on homeowners in active adult communities.
Exteriors: Restrictions on outdoor lighting, exterior paint colors, satellite dish size, and even seasonal lighting.
Leasing: Most 55+ communities require owner occupancy.
Visitors: The HOA may restrict visitors, including grandchildren, to a limit of nights per year. In Bent Creek, for example, visitors are limited to 45 days per year.
Pets: The HOAs may limit the number and type of pets allowed. Most of the HOAs above allow dogs and cats with a restriction of two per household. There are also some HOAs with rules against excessive noise or dangerous pets.
Storage: Most 55+ HOAs will also limit what you can park outside. For example, you may be limited to two vehicles per household, you may be required to park in the garage or driveway, and they may also have restrictions against parking boats, trailers, jet skis, or trucks outside your home.
Age: "The Fair Housing Act specifically exempts three types of housing for older persons from liability for familial status discrimination" (source) and as such, active adult communities are allowed to maintain age restrictions and even keep a record of age of all occupants.
Photo Credit: Goodall Homes and Del Webb