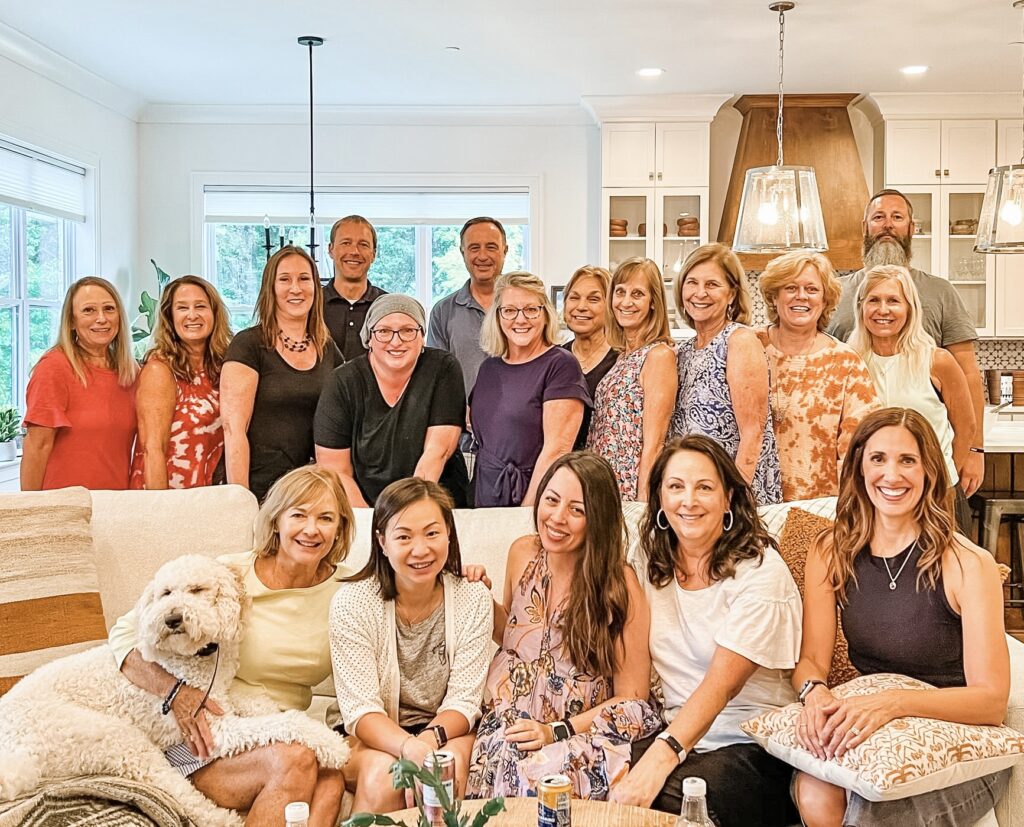 Noelle pictured with some of her favorite Nolensville pickleballers.
Pickleball is a connector. It's inclusive and cross-generational. They say it takes about five minutes to learn and fifteen minutes to fall in love with pickleball. For now, Nolo residents are limited to a couple of spots in town to play, but with increasing demand, I expect more opportunities to come our way.
Indoor Pickleball in Nolensville, TN
2 Indoor Courts at Nolensville Rec Center | 7250 Nolensville Road
The Nolensville Rec Center—run by Williamson County Parks & Recreation—converts the indoor basketball court to two pickleball courts throughout the week. While the schedule is subject to change, they post a link to the monthly gym schedule here.
The courts can be reserved 48 hours in advance by calling the rec center. And while the rec center allows walk-ins, I highly recommend making a reservation. With only two pickleball courts in town, time slots are snapped up quickly. Entrance to the courts is free with a membership or $4 per adult and $2 per child for non-members.
Outdoor Pickleball in Nolensville, TN
2 Tennis Courts at Nolensville High School | 1600 Summerlyn Drive
There aren't any outdoor pickleball courts in Nolensville, but there are tennis courts at Nolensville High School. The courts are walkable from the Summerlyn neighborhood and Nolensville trail system. If you want to learn how to play pickleball on a tennis court, this article provides an excellent explainer.
Pickleball in Brentwood and Franklin
Williamson County Indoor Sports Complex (Indoor and Outdoor) | 920 Heritage Way, Brentwood, TN | 8.7 Miles From Nolensville
Music City Pickleball (Indoor) | Members Only | 13 Miles From Nolensville
Academy Park (Outdoor) | 120 Everbright Ave, Franklin | 15 Miles From Nolensville
The Williamson County Indoor Sports Complex is 8.7 miles from the Nolensville Town Hall and even closer to those who live near the Brentwood side of Nolensville. The complex is larger than the Nolensville Rec Center and includes a larger gym that converts to four pickleball courts for open play events throughout the week. Players of all levels attend open play. I love that open play at the Sports Complex is inclusive. You simply show up, drop your paddle to put yourself in line, and jump in and play.
The Williamson County Indoor Sports Complex also has four dedicated outdoor pickleball courts. The outdoor courts are available for reservation at the cost of $10.00 per court per hour.
Music City Pickleball is a membership club that offers open play, tournaments, and clinics to its members. They play at the TOA Sports Performance Center in Cool Springs and offer 12 indoor courts. Pricing and more information can be found at musiccitypickleball.com.
Academy Park also has four outdoor courts available for reservation at $10 per court per hour. While it's a little farther from Nolensville, it's just 1 mile from downtown Franklin which, in my opinion, you might as well take advantage of if you're going to drive out that way.
Coming Soon, Hopefully, Maybe
At the September 26, 2022 Nolensville Town Commission Work Session meeting, a budget was proposed for a Town Hall sports court. The court includes half-court basketball, hopscotch, and one outdoor pickleball court.
Finally, let's wrap this list up by throwing in the $350,000,000 proposed entertainment complex in Murfreesboro—Legacy Sports. According to WGN Radio, the complex is slated to open in 2024 and will include 41 pickleball courts. The project will be built near the corner of 840 and Nashville Highway. From the Nolensville Town Hall, the trip should take about 24 minutes, even less for those commuting from Arrington.
Tips for Plugging Yourself into a Nolensville Pickleball Group
If you need someone to play with, I have a few tips.
Open Play: Stop by an open play event at the Williamson County Indoor Sports Complex. As you will be mixed with other players, there's opportunity to find people of your skill level to play with.
Rec Center: The Nolensville Rec Center pickleball community is interconnected. If you see someone playing, don't be shy! Introduce yourself, let them know your skill level, and ask them to introduce you to a group that can get you plugged in.
Churches: A few churches in the area have pickleball groups, including a not church-sponsored group at The Church of Nolensville and Holy Family in Brentwood. Holy Family has a gym, which they convert into pickleball courts for their parishioners and guests.
Music City Pickleball: A bit of a repeat, but Music City is a social club. They organize and provide play opportunities for players of all skill levels.
Facebook: Nolensville resident Ross Muirhead has started a Facebook group called Nolensville Pickleball. You can request to join here.
Finally, if you are looking for a neighborhood in the area that offers pickleball courts, there are a few options. For starters, check out The Grove in College Grove. Residents of The Grove enjoy lessons, tournaments, and even a pro shop that sells pickleball gear.