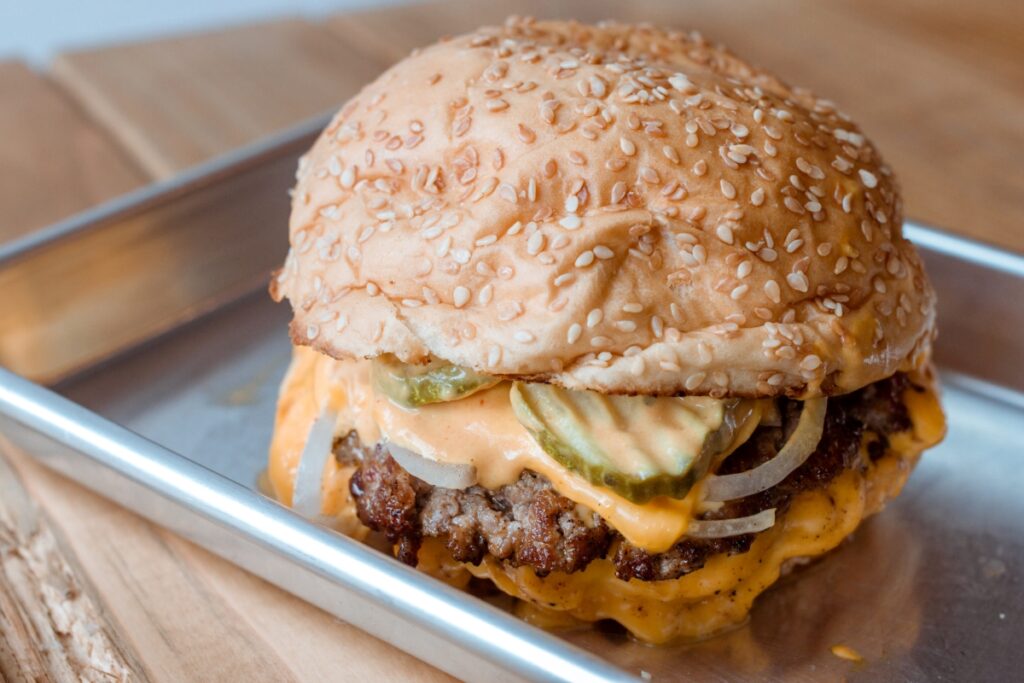 Burgers are—almost comically—Nolensville's most abundant dish. Opinions on who has the best burgers in Nolensville are equally abundant. That said, there is some consensus amongst locals. If you want your arteries assaulted in very delicious ways, let me introduce you to the best burgers in Nolensville.
Mill Creek Brewing Co
Order: Smashville Burger, $13.50
The Smashville Burger entered my dreams in 2018 when it won "best burger" during Nashville Scene's Burger Week.
It beat out many beloved favorites, including Cafe Rakka's lamb burger, Burger Republic's East Coast Burger (one of my favs), and Rotier's French Bread Burger (an absolute classic Nashville establishment that sadly closed after 75 years of operation).
When I read of Smashville's win, I semi-immediately dropped what I was doing, drove to 12 South, and indulged in a delicious double-patty burger with American cheese, pickles, bacon crumbles, barrel sauce, and sauteed onions. Thankfully, you no longer have to drive to 12 South to try Smashville. It is served in the Mill Creek taproom in Nolensville alongside an extensive beer menu.
Eat Here: 2008 B Johnson Industrial Co, Nolensville, TN 37135
Surf Here: MillCreekBrewingCo.com
West Coast Burgers & Dogs
Order: Cheeseburger Wrapped in Lettuce $5.49
For all our new Cali residents, Burgers & Dogs is about as close to In-N-Out as you're going to get in Nolensville. The secret sauce, lettuce wrap, and low price point set it apart from other burger joints in town.
The only downside to Burgers & Dogs is that it's been inconsistent throughout the years. Years and years ago, when it first opened, it was fantastic until a new owner took over and things went downhill. We gave them two second chance spins for this article and found that the restaurant has once again changed hands and is once again delicious.
Eat Here: 7175 Nolensville Rd Ste 101, Nolensville, TN 37135
Martin's
Order: Cheeseburger, Unless You're Brave…
Nolensville is home to the original Martin's BBQ. I'd like to think that our collective appetite kicked off its success, but in reality, Martin's earned it. They make some damn good food.
For years, Nolensvillians lined the tiny building that now houses Outlanders to elbow our way to some homemade yumminess. While I miss the cozy and kitschy feel of Martin's first and second locations, their new Nolensville home has room for our growing population, complete with garage doors open to the Tennessee breeze.
As far as burgers in Nolensville, the internet is buzzing with tales of Martin's Brisket Burger, a classic burger smothered in brisket, onions, and BBQ sauce, but friends, I'm a small-ish woman. As much as I would love to pretend that I've shoved down this double meaty stack of cholesterol, it hasn't happened. I can't, in good faith, point you toward eating something I haven't eaten.
I can, however, suggest the classic cheeseburger. There's not much to say about this cheeseburger, it's a cheeseburger with tomatoes and lettuce, yet it's so much more.
Eat Here: 7223 Nolensville Rd., Suite C, Nolensville, TN 37135
Surf Here: MartinsBBQJoint.com
Brothers'
Order: Fun Guy, $14.99
Brothers' is a locally owned burger joint. Their top seller is the Jumpback Jack featuring candied bacon, pepper jack cheese, caramelized onions, fresh jalapenos, and cumin aioli. It's considered one of the best burgers in Nolensville by locals for a reason, but I can't send you to Brothers' with a basic recommendation, so I'm going to point you to the Fun Guy.
The Fun Guy burger uses dry-aged, pasture-raised, locally sourced beef topped with sauteed mushrooms, swiss cheese, caramelized onions, and creamy horseradish. You can thank me later if you've never had horseradish on a burger.
Bonus Tip: Brothers' is gluten-friendly. They offer a gluten-free bun alternative and use a dedicated fryer for fries.
Eat Here: 7240 Nolensville Rd., Nolensville, TN 37135
Surf Here: BrothersBurgerJoint.com
BONUS: Burger Republic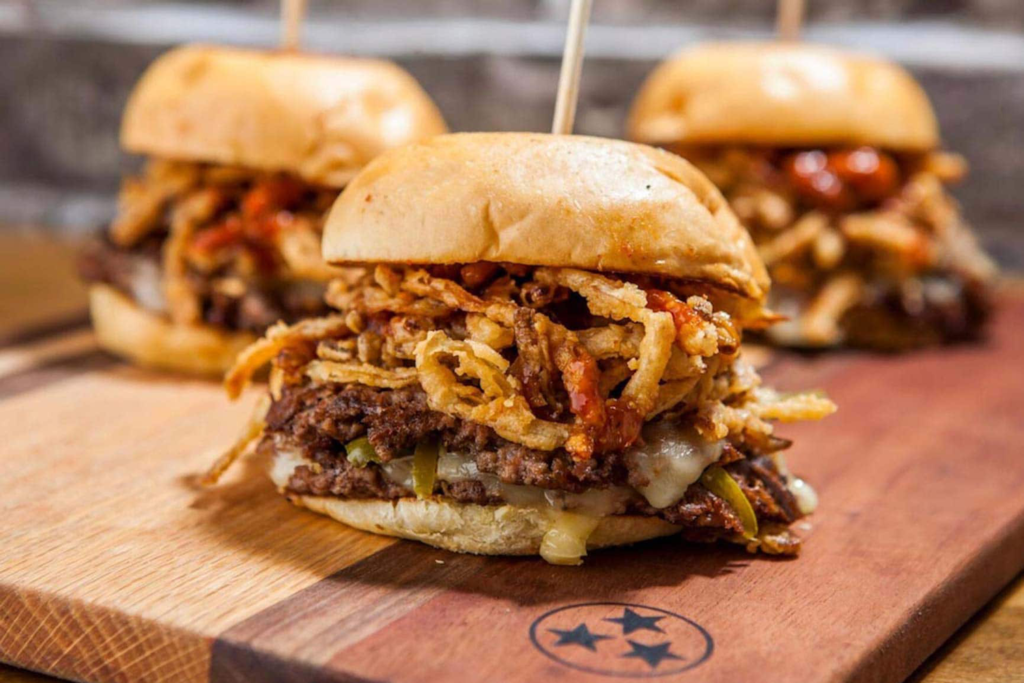 Order: House-Made Veggie Burger (Vegan)
Technically, Burger Republic is in Lenox Village, not Nolensville, but they make a mean burger and the best vegan burgers in Nolensville, or nearby at least. I already gave a shout-out to their West Coast burger, but you should know it's smothered in American cheese.
Luckily, you can customize any of their burgers with your preferred protein, including their house-made veggie pattie while adding toppings like avocado, Guinness braised onions, and 'maters for some meatless deliciousness.
Honorable Best Burgers in Nolensville
If you want to forcefully burger your way through all of the best burgers in Nolensville, you can also stop by Hwy 55 Burgers, Birdie's, Southern Eatery, Sonic, Hoss, grab a farmhouse burger from Pork Belly, wait for one of our fantastic food truck events, or even stop by Wings to Go.
Suffice it to say that when you move to Nolensville, your best burger-eating days are ahead of you.
Primary Photo Credit: Mill Creek Brewing
Secondary Photo Credit: Burger Republic