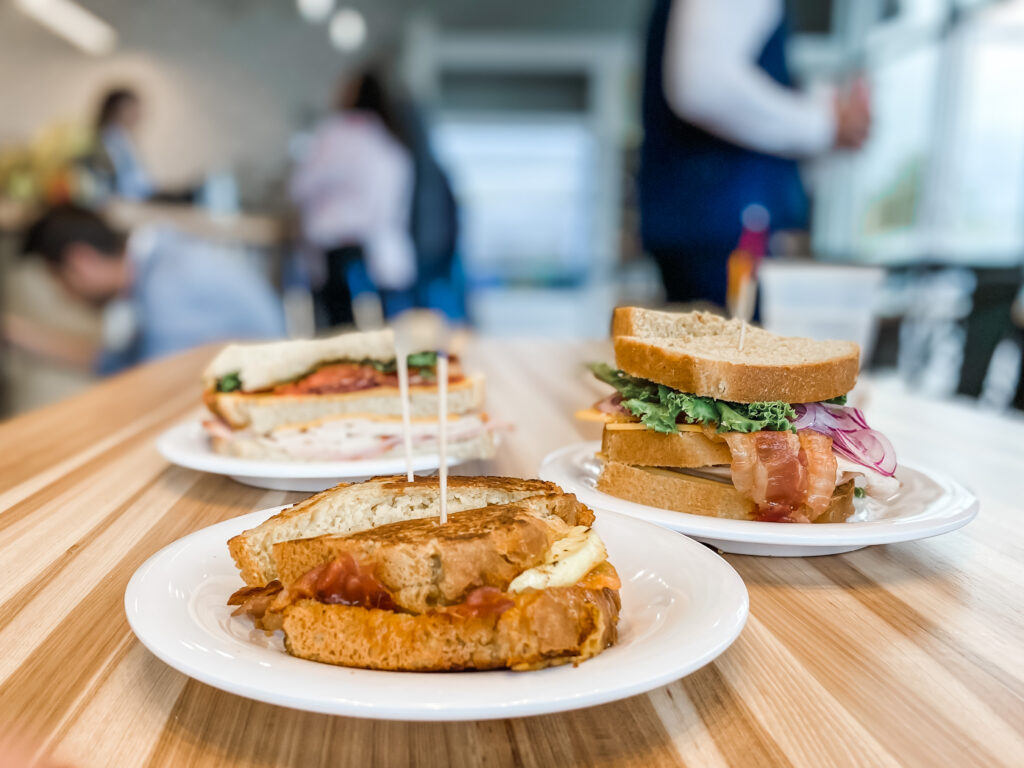 Breakfast at House of Bread
With Birdie's (now Me & Loretta's) swapping to a lunch/dinner-only menu, we're left with one less delicious place to eat breakfast in Nolensville. The good news is that there are still several tasty options serving everything from sweet treats to American staples.
Breakfast in Nolensville North
Mama Javas
Tucked behind Dollar General, Mama Javas has kept Nolensville caffeinated for over a decade. Owner and resident Mama, Melissa Hall, keeps a rotating and creative menu alongside staples like build-your-own omelets and avocado toast while the bakery case is stocked with donuts, cinnamon rolls, and other sweet treats. MJ's is open at 6:30 AM on weekdays and a bit later on the weekends. Breakfast is served all day, and if you're headed that way, I highly recommend trying one of MJ's GF MJ Nirvana Bars.
Just Love Cafe
Not far from Mama Java's, you will find Just Love Cafe. The restaurant is a chain but locally owned and leans heavily on waffling all the food. The menu showcases artisan waffles (think waffle sandwiches with ice cream topped with fruity pebbles or a cookie-stuffed waffle with ice cream and chocolate sauce) and breakfast sandwiches served on waffled biscuits. If waffles are your thing, Just Love is the place for you.
El Arroyo Express
El Arroyo is a hidden gem. It sits unassumingly across from Burkitt Place inside a gas station with a sign that simply reads, "Mexican Restaurant." It would be easy to drive by El Arroyo without a second glance, but you would miss a chance to try a freshly prepared, savory plate of breakfast goodness.
Inside, El Arroyo is bright, clean, and cheery. The breakfast menu includes burritos, chilaquiles, tortas, and eggs, and I would not blame you if I caught you one morning licking your plate in hopes of soaking up every last bit of saucy goodness.
Oscars Taco Shop
Just a bit further north on Nolensville Road, you will find Oscar's Taco Shop. Sadly, you won't find breakfast tacos here, but they do sell breakfast burritos. The burritos are stuffed with eggs, cheese, and your choice of meat (steak, ham, bacon, chorizo, or machaca). One downside to eating breakfast at Oscars is that it doesn't open until 10:00 AM, but the burritos are big enough to satisfy all your late morning needs.
House of Bread
The newest place to eat breakfast in Nolensville is House of Bread (HOB). Before entering the front door, you can smell homemade goodness radiating from the restaurant. HOB sits in the same plaza as former Nolo breakfast favorite Birdies and offers a different approach to breakfast, leaning heavily on sandwiches that showcase their handmade loaves as well as baked goods like pastries and muffins. In addition to their selection of breakfast sandwiches, their lunch menu is available all day.
Sonic and Subway
Sonic and Subway are also options for grabbing a quick breakfast in Nolensville. While there isn't much to add about these two chains, I will share that both restaurants are locally owned.
Breakfast in Nolensville South and the Historic District
Nolensville Feed Mill
Back in the day, the Feed Mill was one of my favorite breakfast spots. While they've discontinued the weekend breakfast event, you can still grab breakfast items at the Mill to take home, including their fantastic cinnamon rolls, granola, pancake mix, syrup, biscuit mix, gravy mix, maple breakfast sausage, and Troyer smoked bacon.
Oh My Chives
Oh My Chives was once a natural food market and is now a collective that includes multiple businesses. Open at 7:00 AM (8:00 AM on Sunday), you can grab a breakfast sandwich from the Oh My Chives counter or an acai bowl or juice from Lokales, and wash it all down with coffee from Cornell Brothers Coffee Espresso Bar. While it's all tasty, I'm partial to the breakfast sandwiches.
The breakfast menu at Oh My Chives is small but delicious. It includes the Morning Melt (fried egg, cheese, bacon, avocado, red onion, and house sauce) and the Avocado Toast (avocado, fried egg, everything bagel seasoning, house sauce, and microgreens). Sandwiches are served on your choice of sourdough or gluten-free white bread.
Itty Bitty Donuts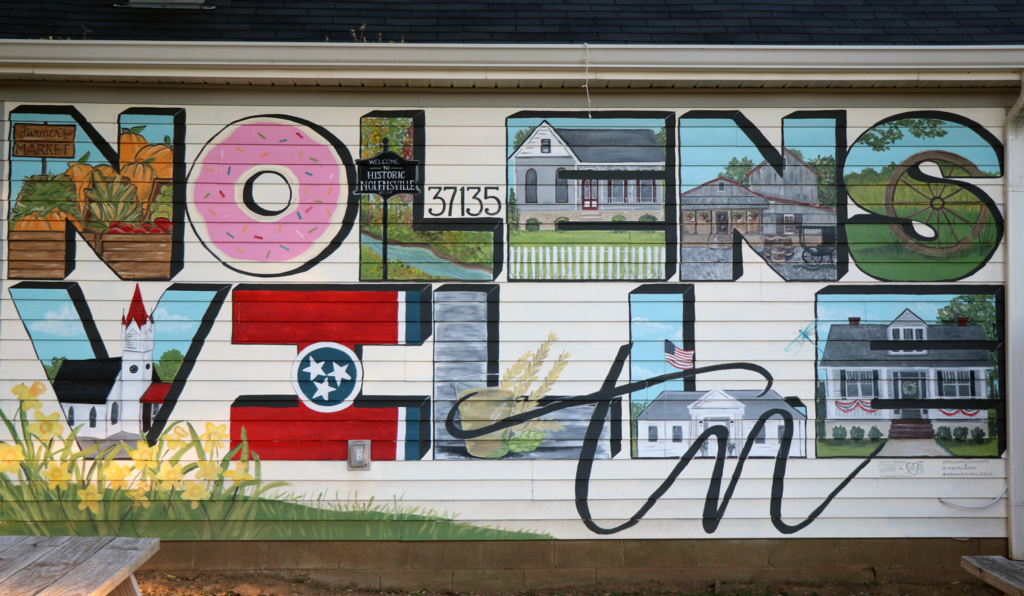 The Nolensville Mural sits behind Itty Bitty Donuts
Itty Bitty is an adorable coffee shop in the historic district that serves…well… tiny donuts. Donuts are made fresh to order and served hot. Flavors include glazed, powdered sugar, chocolate iced, and seasonal flavors. In addition to coffee and tea drinks, they also have kombucha on tap and one of Nolensville's photo-worthy murals.
Breakfast in the Lenox Village Area
While there are plenty of good spots for breakfast in Nolensville, there are a couple of options to consider just north of town near the Lenox Village area: Eggstravaganza Café and a brunch service at Southside Grill.
Both restaurants offer dishes not found at the other breakfast joints. Eggstravaganza serves Shrimp and Grits, Eggs Benedict, and Crepes while the Southside Brunch Menu showcases Sesame Seared Ahi Tuna, Scottish Salmon, and Filet & Eggs, among other choices.
Where do you like to eat breakfast in Nolensville?