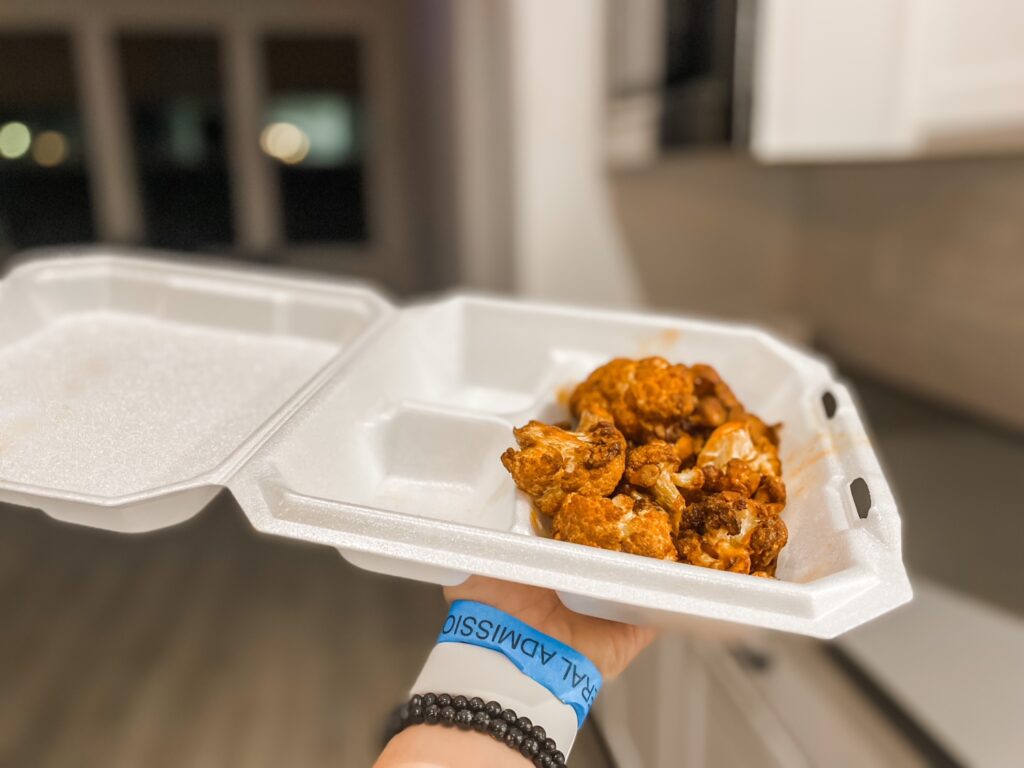 Smoked cauliflower makes an excellent to-go snack post the Nolensville Broken Wheel Festival
Tennessee is not exactly a state known for vegan or healthy eating, and admittedly, Nolensville fits the stereotype with about as many burger joints per capita as we have churches. That said, Nolensville is changing, and that includes the culinary palettes this town can please. Below is a list of vegan dishes our local herbivores can proudly sink their teeth into.
Cauliflower Wrap at Mill Creek Brewing Co
Mill Creek has made a wrap out of one of their most popular apps: Smoked Cauliflower. The smoked florets are flash fried and tossed in your choice of sauce before they are wrapped up with lettuce and tomatoes and served with a side of fries—ask the kitchen staff to hold the ranch, and you have yourself a delicious, vegan meal.
Bonus: Mill Creek is a chill spot to hang out.
Menu and Directions Can Be Found Here
Açaí Bowl at Lokales Juice
Lokales Juice is located inside Oh My Chives. They serve pressed juices, smoothies, and delicious açaí bowls topped with honey, granola, berries, coconut, and bananas.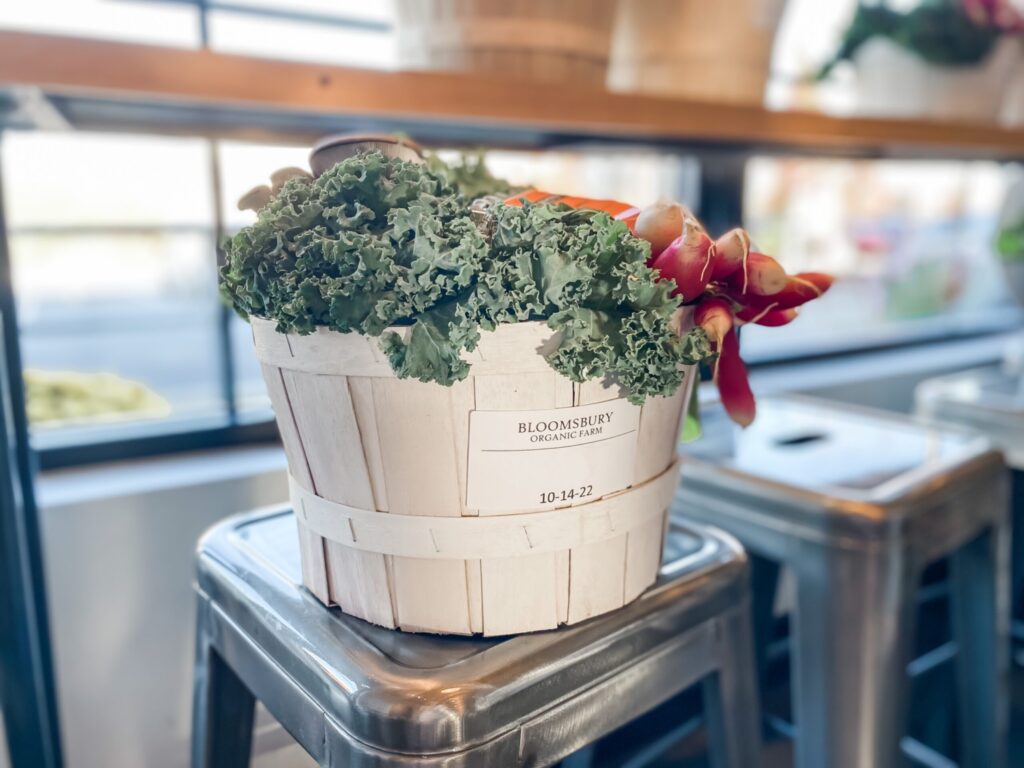 A bushel basket awaits pickup inside Oh My Chives
Bonus: You can grab fresh salads from Oh My Chives to take home to eat later and it serves as a local pickup spot for the CSA program through Bloomsbury Farms.
Vegetables Vegan Poke Bowl at Keriyaki
Keriyaki's menu has a slew of meaty poke bowls, but they also have a vegan option that includes seaweed, dried gourd strips, mushrooms, pickled radish, and pistachio over sushi rice topped with Keriyaki poke sauce.
Bonus: The views from Keriyaki over the Tennessee hills are spectacular.
Menu and Directions Can Be Found Here
Rotating Menu at Pork Belly Farmhouse
If you want a semi-upscale environment and don't want to drive far, there are only two options: Pork Belly Farmhouse and Southside near Lenox Village. Unfortunately, Southside does not cater to different diets, but Pork Belly—despite its meat-centric name—offers rotational vegan dishes.
At the time of writing, Pork Belly was cooking up fall flavors with a sweet potato risotto. In the past, they've offered dishes like roasted tomato risotto and a gourmet mushroom ragout. With substitutions, their salads can also be made vegan, and you can top your salad with a portobello mushroom.
Bonus: Pork Belly's menu notes which options are vegan-friendly, so there's no guessing.
Menu and Directions Can Be Found Here
Vegetarian Fajitas at Cabos
The Vegetarian Fajitas at Cabos is a dish I've never tried, but it could work. In fact, they have several vegetarian options that could be made vegan. The Vegetarian Fajitas include sauteed broccoli, cauliflower, carrots, bell pepper, mushrooms, onion, and tomatoes for a tasty Mexican treat.
Bonus: Cabos sits next door to Barrel and Roll, an ice cream joint offering fresh made vanilla and chocolate ice cream using a coconut base.
Menu and Directions Can Be Found Here
Just a Short Drive
Finally, if you don't mind a drive, there are several vegetarian/vegan restaurants in the area including Vegelicious, which is an 18 minute drive from the Nolensville Town Hall and Sunflower Cafe, which is a 27 minute drive. If you're willing to drive just a tad farther, Butcher and Bee is an adorable restaurant with vegan and gluten-free options on the menu. You can view their menu here.