When you think 'what county is Nolensville TN in?' – Williamson County may be what naturally comes to mind. Considering Nolensville is a rather small place geographically at just over 10 square miles, it can be easy to assume that all of Nolensville is still within Williamson County.
Certainly this used to be the case, and for the most part still holds true. Today, however, that's not always the case. So before you buy a home in Nolensville, you definitely need to know which Nolensville TN county you are buying in.
What county is Nolensville TN in today?
While the bulk of Nolensville is still inside Williamson County, today's Nolensville has spread out into two other counties as well. Davidson and Rutherford counties both have at least two neighborhoods with Nolensville addresses. This is especially important information to be aware of if you're planning to move to Nolensville and are expecting to be in Williamson County.
There are two Nolensville neighborhoods in Rutherford County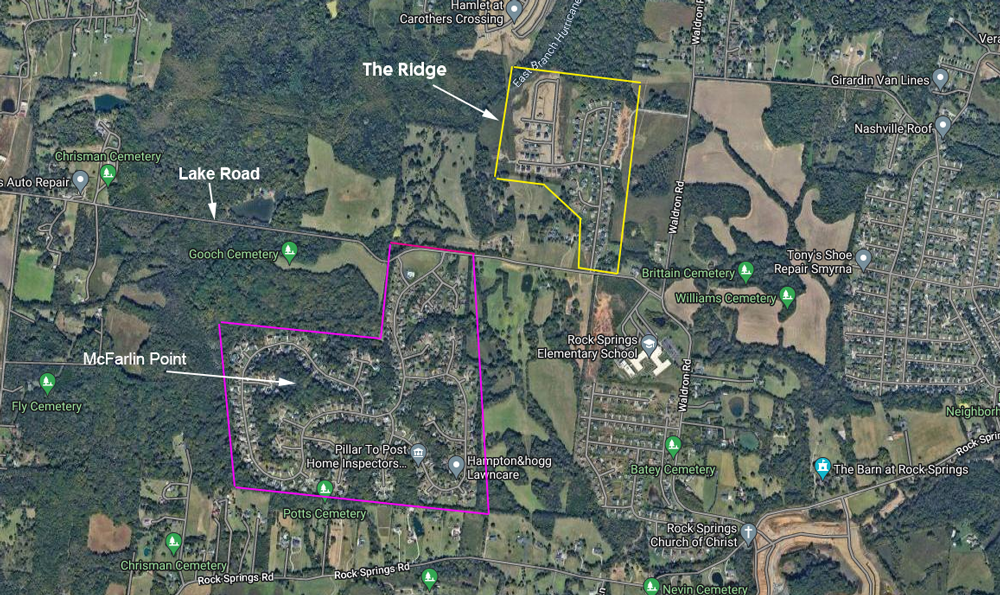 Property lines on the map are for general illustration purposes and are by no means exact
There are two subdivisions with Nolensville addresses which are located in Rutherford County; The Ridge and McFarlin Point. Both neighborhoods entrances are located off of Lake Rd.
McFarlin Point is the more established of the two with construction beginning in the early 2000's. The Ridge is a newer neighborhood with construction beginning around 2017 and still plenty of new houses yet to be built.
Streets in McFarlin Point
McConnell Dr
Ben Hill Blvd
Jennings Dr
Conner Ct
Holmes Ct
Rennie Cir
Ben Hill Ct
Allendale Dr
Allendale Pl
Thompson Ct
Cabe Ct
Flannery Ct
Quillian Ct
Laird Ct
Turner Dr
Finegan Ct
Kilton Ct
Godfrey Ct
Harkins Ct
Kiley Ct
Kearney Ct
Brogan Ct
McFarlin Point Summary
City: Nolensville (unincorporated)
County: Rutherford
Zip code: 37135
Price Range: $600k – $720k
HOA dues: $37 per month
Lot size: Less than half an acre
Streets in The Ridge
Dobson Knob Trl
Rock Bluff Ct
Sweet Maple Knl
Jade Creek Hollow
Rocky Trail
Chimney Rdg
Thunderhead Rdg
Smokey Rdg
The Ridge Summary
City: Nolensville (unincorportated)
County: Rutherford
Zip code: 37135
Price Range: $700k – $800k
HOA dues: $45 per quarter
Lot size: Less than a quarter acre
Both neighborhoods are zoned for Rutherford County schools as well
Rock Springs Elementary
Rock Springs Middle School
Stewarts Creek High School
There are five Nolensville neighborhoods in Davidson County (partially at least)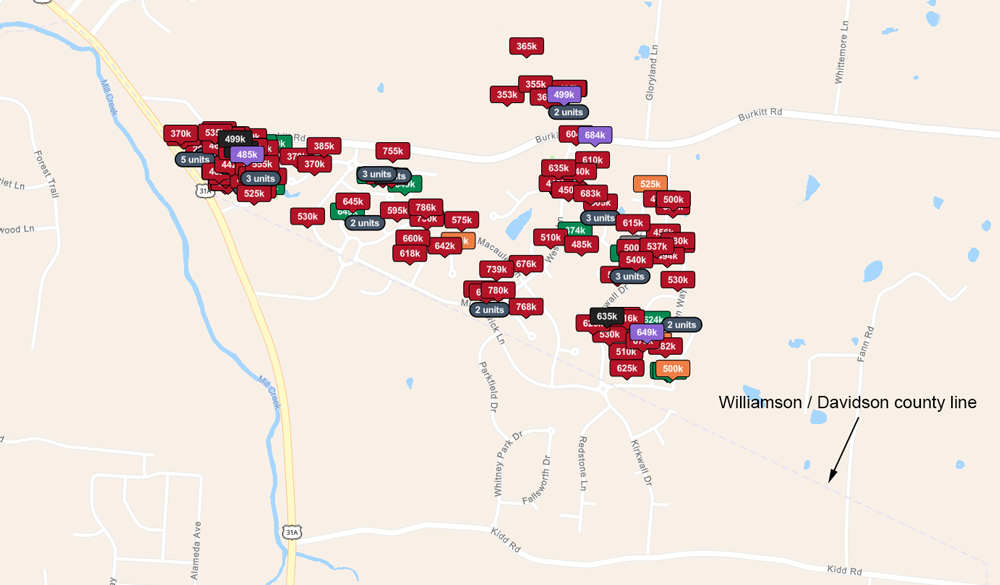 A map showing properties with Nolensville addresses that are in Davidson County
On the Davidson County side things are a bit more complicated. Here we have portions of the Burkitt developments on the Davidson County side and some on the Williamson County side. Some streets like Burkitt Place Dr and Middlewick Dr actually have Davidson County on one side of the street and Williamson County on the other side.
In all the Burkitt developments in Davidson County consist of five separate neighborhoods with separate HOA's; Burkitt Place, Village of Burkitt Place, Burkitt Commons, Burkitt Ridge, and Burkitt Springs.
Streets inside the Burkitt developments with Nolensville Davidson County addresses
Burkitt Place Dr
Canonbury Dr
Muir Ave
Burkitt Commons Ave
Kemberton Dr W
Kemberton Ct
Kemberton Dr E
Elmcroft Ct
Danbrook Dr
Meadowcroft Ln
Saltville Aly
Gainsford Ln
Middlewick Ln
Macauley Ln
Ivy Mt Ln
Hartley Ct
Foxley Ct
Wescott Ln
Whitman Ct
Branch Side Trail
Tidmarsh St
Celt Aly
Springland Dr
Springland Ct
Strong Alley
Frewin Str
Balfron Dr
Duns Ln
Kirkwall Dr
Liberton Way
Alva Ln
Janefield Way
Burkitt developments in Davidson County are zoned for these schools
Henry Maxwell Elementary School
Thurgood Marshall Middle School
Cane Ridge High School
Burkitt developments Summary
City: Nolensville (unincorportated)
County: Davidson and Williamson
Zip code: 37135
Price Range: $375k – $680k
HOA dues: Different for each neighborhood
Lot size: Less than a quarter acre
Nolensville TN county Summary
You need to do your due diligence when purchasing property in Nolensville. Ask your REALTOR which Nolensville TN county they are showing you property in. While you can get a lower entry price into Nolensville by choosing Davidson or Rutherford counties, you won't be zoned for Williamson County schools, which could be a deal breaker for some.
The only question now is, which Nolensville TN county calls to you?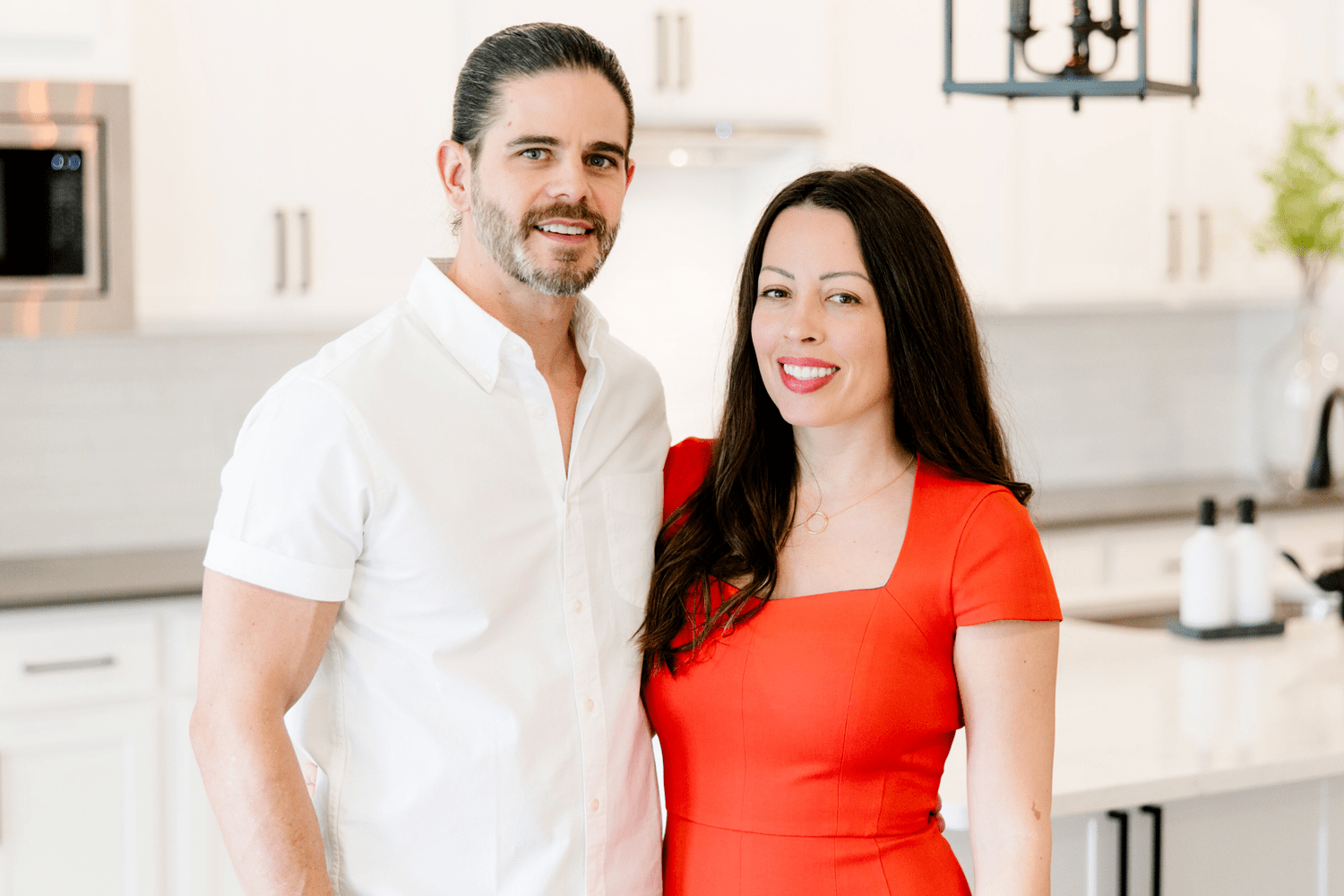 Thanks for visiting.
It is our goal to provide you with a boutique, luxury as a service, real estate experience. While also working boldly on your behalf to get you the best deal possible.
Contact us today. We look forward to working with you.
Matthew & Noelle Tabor, REALTORS
Get in touch today