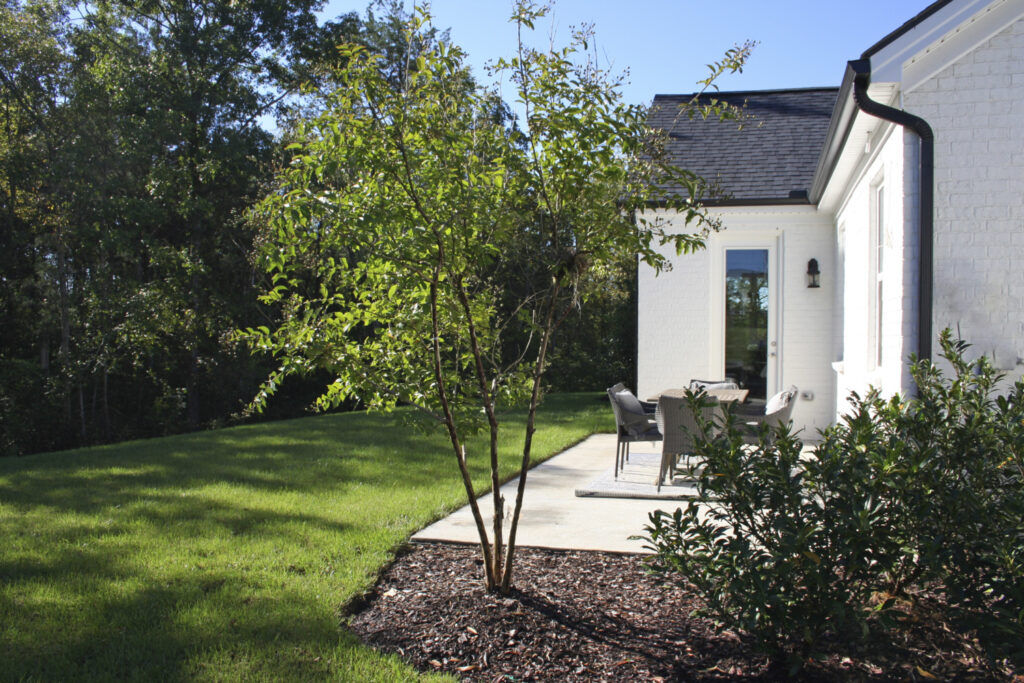 Photo Credit: Gresham Smith
If you want affordable, new construction in Nolensville, the options are limited, especially if you want to be near the town center and have access to neighborhood amenities. For example, Annecy has affordable cottage homes, but it's on the south side of town, and Ballenger Farms is affordable and near the town center, but the final phase was completed ten years ago. Lochridge in Nolensville fills this void within the Nolensville housing market.
Lochridge in Nolensville Location
If you've read our Ballenger Farms article, you already know a bit of tea about Lochridge. The town of Nolensville (TON) intended for Ballenger and Lochridge to connect via Creekside Drive, but a group of neighbors collectively called "Save Creekside" stopped this from happening.
Save Creekside cited concerns related to speeding and cut-through traffic. Working with TON and Beazer, they successfully rallied to stop the roadway connection. It was understood that as an alternative, the two neighborhoods would be connected by a short walking path, and the existing tree line would remain to create a buffer. This partially happened. There is a short pathway to walk between the two neighborhoods, but the treeline that existed was basically eradicated.
In addition to the walkway to Ballenger, Lochridge connects to the Burberry Glenn neighborhood via a roadway. Burberry Glenn has two entrances: one off Rocky Fork Road and one off Fly Road. There is also a dedicated neighborhood entrance off Rocky Fork Road. For those unfamiliar, Rocky Fork leads to the town of Smyrna to the east, providing easier access to I-24 than you might get in other parts of Nolensville.
Home Types
Lochridge in Nolensville is a small neighborhood developed by Beazer Homes and is made up of signature and cottage home plans. The community has 45 signature and 70 cottage homes, although not all are complete.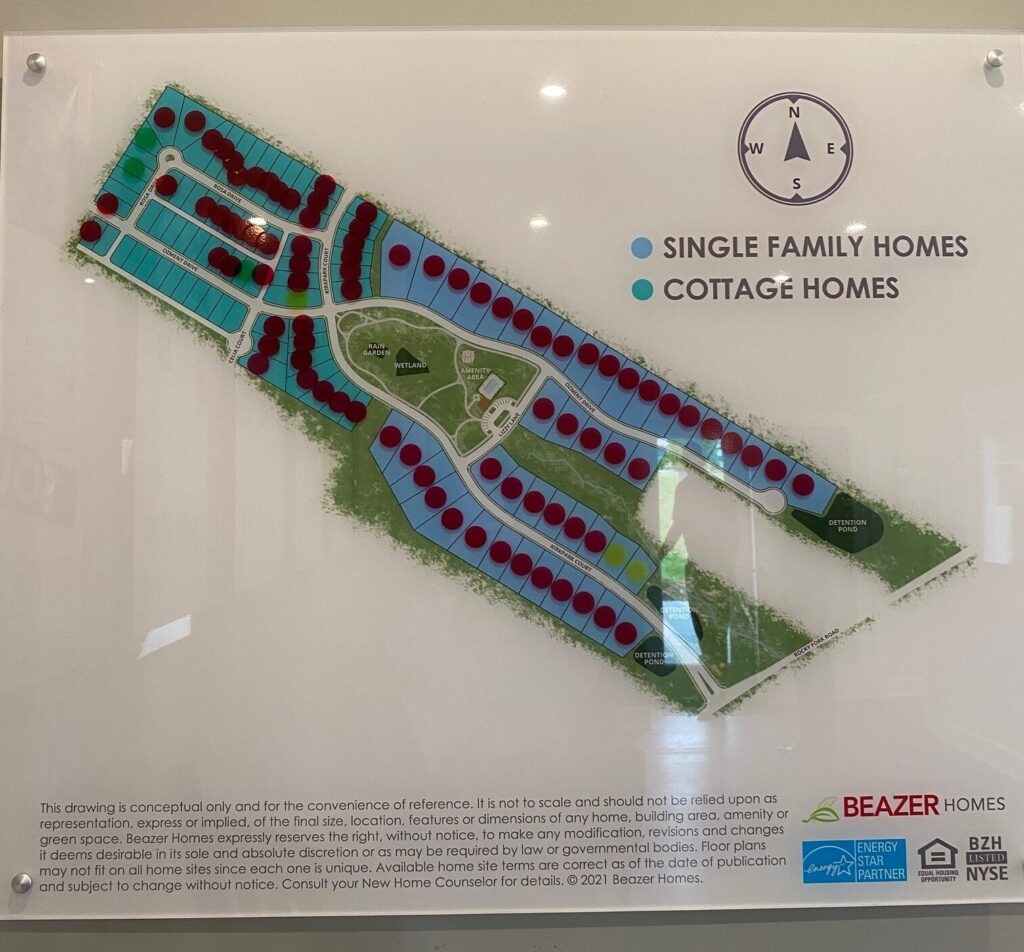 The Beazer Lochridge Cottage series includes single-family homes with 3-4 bedrooms, 2.5-3 baths, and 1,791-2,691 square feet. Floorplans in this collection include Amberbrook, Chadwick, and Ashford. Cottage homes started in the mid-500s during the construction process.
The Lochridge Signature series includes floorplans like Dogwood and Landon. Homes in this series sit on larger lots and offer a bit more space. The floor plans are all 3-5 bedrooms, 2.5-3.5 baths, and offer 2,896-3,679 square feet with prices starting in the 800s.
Most of the homes in Lochridge offer two-car garages though some have three-car garages.
Energy Efficient New Construction
When I asked a representative from Beazer to tell me what sets their homes in Lochridge apart from others in Nolensville, his answer was that they build an "air-tight home." The homes in Lochridge in Nolensville are all designed and constructed to be ENERGY STAR® certified and Indoor air PLUS qualified.
Other features include:
Air seal protocols designed to reduce air passing in and out of the home
Dual-pane windows with Low-E glass to reflect infrared energy and block UV light
Whole house, fresh air system with Broan Energy Recovery Ventilator to bring fresh outdoor air in and move stale indoor air out
Rinnai tankless gas water heater
Energy efficient appliances
Lochridge is a PUD
One fact about Lochridge on the good-to-know list is that it is a planned urban development or "PUD." According to Amy Fontinelle, personal finance expert for Forbes, "Getting approved for a mortgage on a home in a PUD should only be marginally harder than getting a mortgage on a home that's not in a PUD," which is precisely why I share this info with you. While it won't be an obstacle for most, it is important to know if you are buying into a PUD in Nolensville, as it's information your lender will need.
Becoming a PUD was an essential step for Lochridge. Gresham Smith, a company Beazer contracted to assist with the design and planning of Lochridge in Nolensville, shares that "nearly 90% of the project's land was outside the Nolensville Town Limits." The Gresham Smith team worked with TON to annex and rezone the land to a suburban residential zone with a planned unit development overlay. Without the zoning adjustment, the neighborhood would have been outside city limits, limiting access to city services and local voting.
Homes For Sale in Lochridge in Nolensville
At the time of writing, Beazer had three move-in ready Signature homes for sale. These homes are the last of the signature series in Lochridge. Insider Tip: The lot that sits next to the model home (second green dot on the photo above) is currently a parking lot. When the buildout of Lochridge is complete, the parking lot will be converted to a lot that can hold one final signature series home. If you want to build a signature from scratch, this lot is your only chance to do so.
If you want to build from scratch without waiting to see if you can snag the one final signature lot, you will need to look at the cottage series. Phases three and four still have lot availability for cottage homes.
If you want to see what's currently for sale in Lochridge in Nolensville, TN, follow the link below or give us a call so we can check the latest new construction inventory.
Amenities
The layout of Lochridge creates a beautiful space for the amenity center. The homes wrap around a central park that holds all the neighborhood amenities and wetlands.
The amenity center includes a mail center, pool, walking trail, playground, gas fireplace, gas grill, and a small pool house with chairs, tables, and restrooms. If you want to view some of the videos we've made of Lochridge, including a quick look at the pool, you can do so on Instagram.
Schools and Walkability
Lochridge is zoned for Nolensville Schools, including Nolensville Elementary, Mill Creek Middle School, and Nolensville High School. While not the most walkable neighborhood in Nolensville, it is possible to walk to all three schools from Lochridge.
Middle and high schoolers will have to cross busy Rocky Fork Road (no cross-guard present) to make their way through the Whitmore neighborhood to the trail system that leads to the school complex. The walk to the high school and middle school is about 1.5-1.7 miles.
The safest way for elementary kids to walk or bike to school would be to cross through Ballenger Farms down Creekside and then up the walking path that runs along Newsom Lane. Depending on where your home is within the neighborhood, the walk is about 1-1.5 miles.
If you have any questions about Lochridge in Nolensville, feel free to reach out to us or comment below.