Matthew and I have viewed at least a dozen homes in Annecy, attended the neighborhood Halloween party, met the onsite REALTORs, and of course, walked away with insider tips to share with you. If you're considering a purchase in Annecy in Nolensville, read on to learn what we've learned.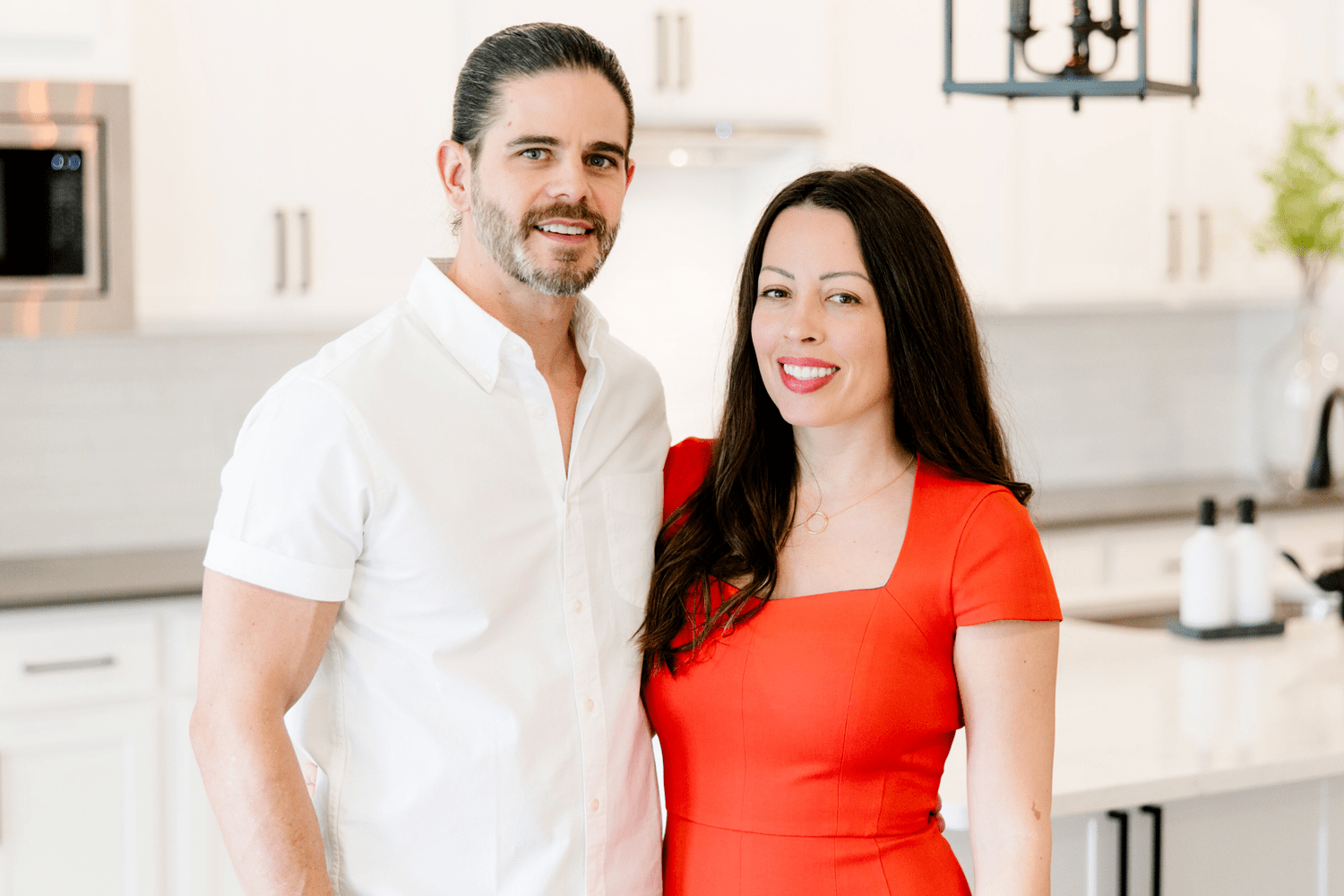 Hello from Matthew and Noelle; thanks for visiting.
Call 615-809-4336 and let us know what we can do for you.
Or join our newsletter and stay up-to-date on the Middle TN real estate market.
Location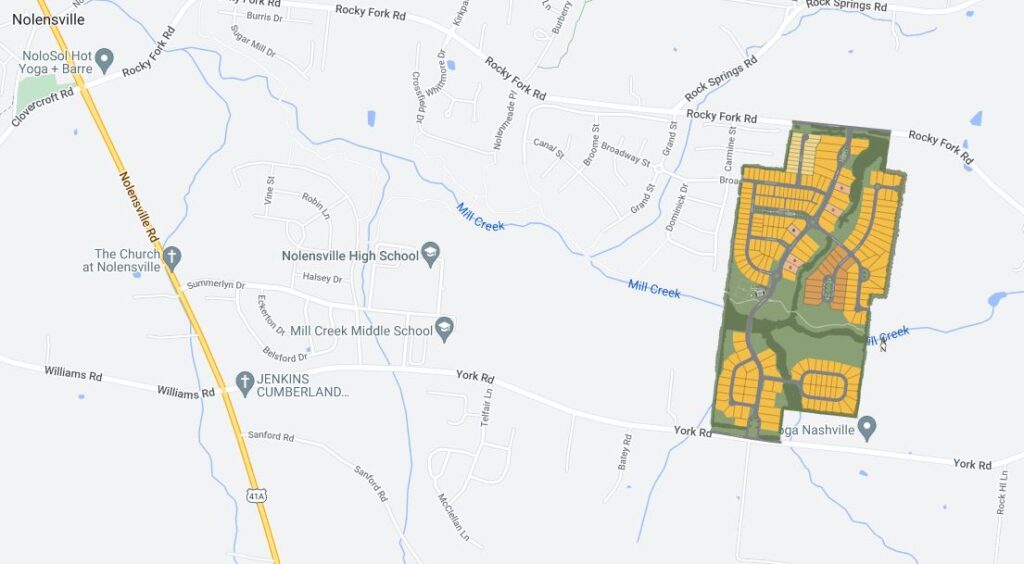 Plat map courtesy of Drees Homes
Annecy is a 278-lot neighborhood that sits between Rocky Fork and York Road east of Summerlyn, Silver Streams, and the Williamson County School complex.
The neighborhood has three entrances: an entrance off Rocky Fork Road, one off York, and a second connection to Rocky Fork through the community of Silver Streams.
Annecy Homes for sale in Nolensville TN
Annexation
Annecy is annexed into the town of Nolensville, giving its residents access to municipal services and the right to vote in local elections. This contrasts with its nearest neighbor, Silver Streams, whose residents do not enjoy the same privileges.
Noise and Gotchas
The first "gotcha" to be aware of in Annecy in Nolensville is the exit onto York Road. The connection is right at the top of a hill, reducing visibility when entering and exiting the neighborhood.
Second, the York Road entrance/exit allows for one-way traffic, but signage indicating this needs to be more apparent. In general, the York Road entrance is slightly hazardous. I pulled around the corner recently while exiting onto York Rd, only to find someone entering the neighborhood and headed the wrong way,
Third, homes closer to York or Rocky Fork might pick up some traffic noise, but the more significant issue in Annecy is roosters. The caged roosters off of York Road can be heard when standing outside of the homes on Angela Ann Court and Bocage Court.
The only other "gotcha" to be aware of is possible cut-through traffic. For the residents of Silver Streams, the easiest way to get to York Road and the Nolensville High School campus would be to cut through Annecy. That said, speeding and traffic remains an issue throughout most of the subdivisions in Nolensville.
The Builders
The homes closer to York Road were built by Turnberry Homes. The Turnberry homes are all brick and sit on estate-sized lots with many backing up to protected green space. Turnberry is considered a semi-custom builder. According to Turnberry, "Our customers choose the luxury plan that best fits their family, and they customize it with our design team to make it the perfect match."
David Weekly, Celebration, Jones, and Drees Homes all constructed on the lots nearer to the Rocky Fork Side of Annecy in Nolensville.
Achilles Custom Builders is the only custom builder in Annecy. They built larger homes on 7 lots in the neighborhood.
Lot Sizes
Achilles has some of the largest lots in the neighborhood, with a couple nearing .5 acre.
Of the semi-custom builders, Turnberry has the largest lots. The home sites include 105′, 95′, and 70′ wide lots.
David Weekly and Drees both offer multiple-size lots. The Drees cottage homes, for example, sit on 55′ lots, while the larger floor plans sit on 85′ lots. Drees 85′ floor plans include Ballentine, Belterra, Marabelle, and Wilshire.
The Drees 55′ lot floorplans include Abigail, Adeline, Brookston, Collette, Everly, and Kinsley with Everly and Kinsley—both four bedroom plans—being the most popular choice among homeowners in Annecy in Nolensville.
The Jones lots offer 70′ of frontage, and all accommodate homes from their Carriage collection, including the popular Rainsford plan and Beckett, Bradford, Cavendish, Devonshire, Hargate, and Tenesdale. Though the map below will become obsolete as lots sell, it does provide an evergreen overview of which floorplans are built on which lots.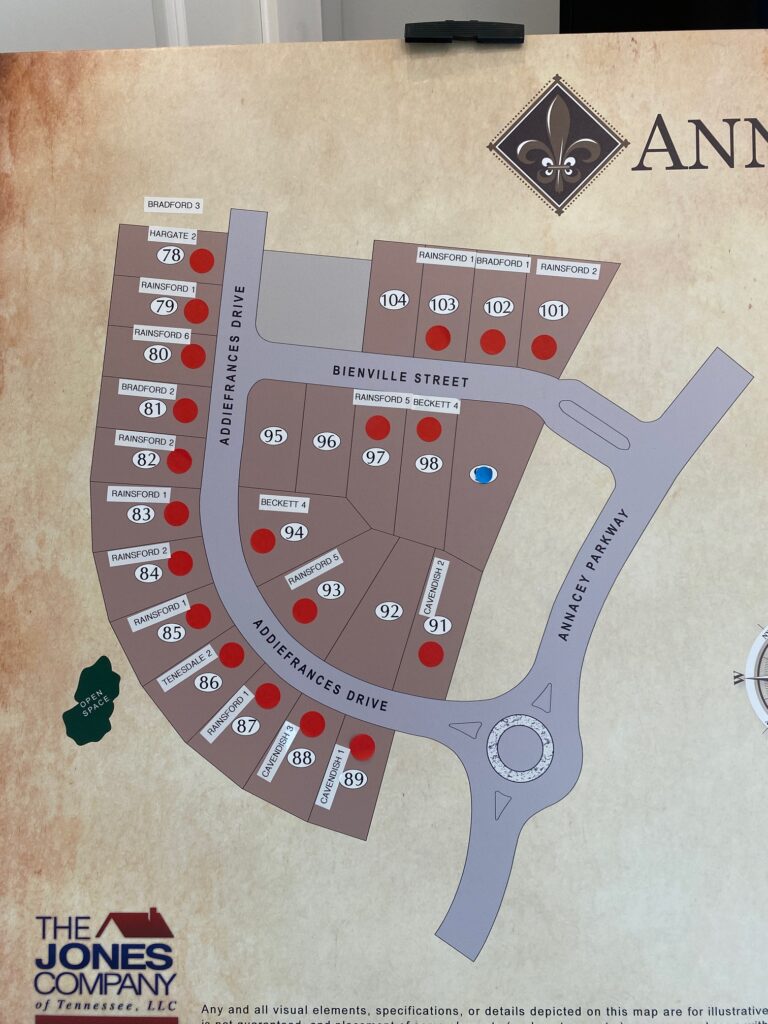 Finally, Celebration floor plans in Annecy include Thomas, Williamsburg, Heather, Harland, Gilliam, Adriana, and Milan.
Schools and Trail System
Annecy is zoned to Nolensville Elementary, Mill Creek Middle School, and Nolensville High School. Walking or biking to school can be done using the Nolensville trail system, but walking to school requires cutting through the neighborhood of Silver Streams. Depending on where you are within Annecy, a walk to any of the schools mentioned will easily top 2 miles, with the walk to Nolensville Elementary presenting the added challenge of crossing Rocky Fork Road.
Finally, it's important to note that Williamson County is rezoning the district's elementary schools. Annecy may be rezoned from Nolensville Elementary to Mill Creek Elementary.
Amenities
Many of the Annecy amenities are still under construction. As discussed above, there will be no dedicated trail entrance within Annecy, but Annecy homeowners can access the trail system via Silver Streams. However, there will be plenty of walking paths within the neighborhood, and the plan for the neighborhood's greenspace looks phenomenal if executed as designed. The walking trails will include community garden areas with benches, statues, and a proposed dog park. In addition, there will be a community pool with an outdoor kitchen and a wood-burning fireplace. The developers also plan to add play equipment and a multi-purpose field. Brett Tesnow, marketing manager for Drees Nashville, has also mentioned a possible amphitheater.
*The pool in Annecy is already under construction and is expected to be open by the summer of 2023.
What Neighbors Like and Dislike About Annecy in Nolensville
Matthew and I interviewed six Annecy homeowners to find out what they like and don't like about living in Annecy. The good news is that the biggest complaint is temporary: blasting. Like most neighborhoods in Nolensville, Annecy is built on rock, and as construction continues, blasting and other construction-related noises are to be expected. As of the time of writing, Annecy was about 56% through the construction phase.
Second, the neighbors expressed to us concern over the size of the pool compared to how many homes are in the neighborhood. They are hopeful that one solution will be the addition of private pools though they noted this option may not be possible for those who own cottage-sized lots as the town of Nolensville has new setback requirements for pool construction.
Finally, many of the homeowners we interviewed had purchased one of Drees 55′ lots. The floorplans that fit on the smaller lots are narrow and rectangular, like the shotgun-style housing seen throughout coastal areas and New Orleans. For some neighbors, there are more ideal floorplans than those presented by Drees, but the smaller lots and cottage plans allow for an affordable entry to the Williamson County housing market.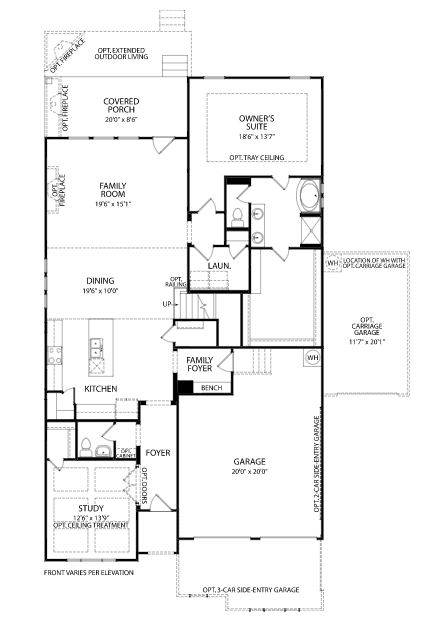 The Everly floorplan by Drees is longer than it is wide, creating a "shotgun" style effect.
Affordability was top of the list for those we interviewed. The 55′ lots allowed neighbors to purchase four-bedroom, new construction homes in Williamson County for under $1,000,000. Second on the list of things neighbors like about living in Annecy in Nolensville is the community feel. The homeowners we interviewed enjoyed their neighbors and making new friends with those around them.
Finally, some of the homes in Annecy, including those off of Jada Way, have spectacular views of the Tennessee hills. The views were top of the list of things homeowners love about living in Annecy.