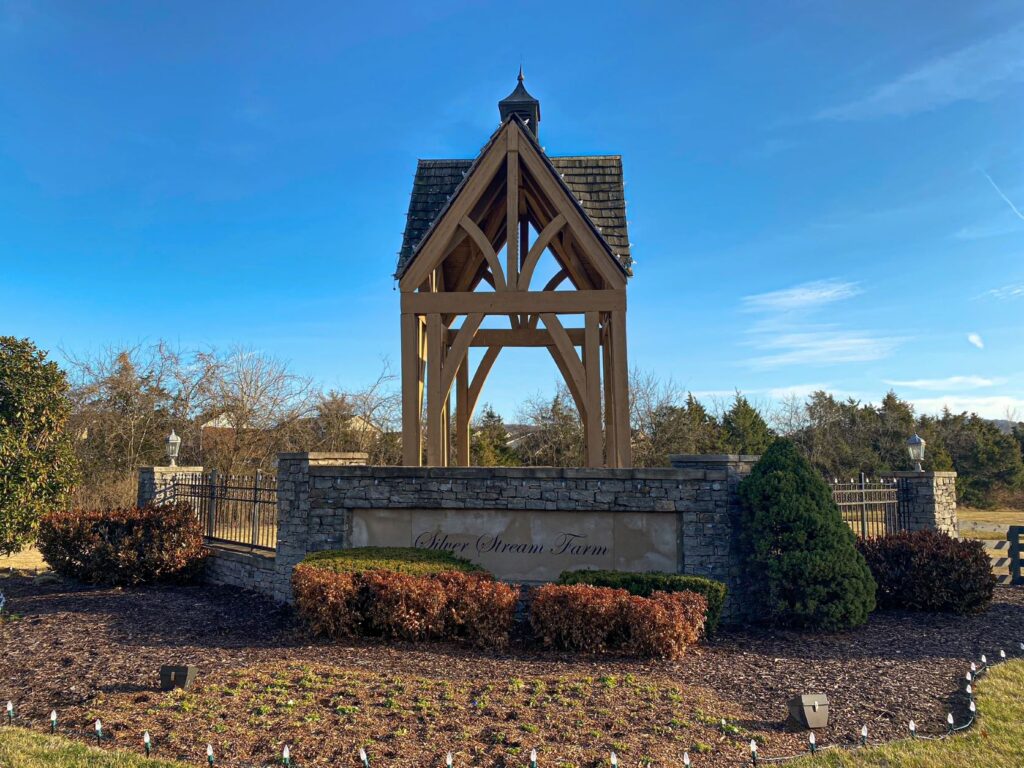 Before Matthew and I built our home in Ballenger Farms in 2012, we had a contract to build a home in Silver Stream Farm, a neighborhood just outside of Nolensville developed by Fox Ridge. Through that process and by talking to those who still live there, we've learned a lot we can share about life in this cozy Nolensville neighborhood.
About the Homes
Most of the homes in Silver Stream were built by Fox Ridge / Ryan Homes, a branch of NVR, Inc. The neighborhood was built in phases starting in 2005, with the final home constructed around 2016. Little known fact: A few of the homes in Silver Stream were built by DeFatta Homes. My source? Joe Defatta himself. Joe told me that a few of the lots in Silver Stream were oddly shaped and would not fit the floor plans offered by Ryan Homes, so he was asked to build on the lots.
Homes in Silver Stream are a mix of brick and vinyl siding, with a few all-brick homes sprinkled in. You will find 3, 4, and 5-bedroom plans that range from 2000 to over 3000 square feet. Most homes in the neighborhood have two-car garages, although some lots in the community have three-car, side-entry garages.
Gotchas in Silver Stream Farm
Silver Stream is a larger neighborhood with two entrances off of Rocky Fork Road and a connection to the newer subdivision of Annecy, which has a back entrance off of York Road.
The catch with connecting one neighborhood to another is often cut-through traffic, but Annecy has its own connection to Rocky Fork Road, reducing the need for those who live in Annecy to cut through Silver Stream. A bigger problem might be people from Silver Stream cutting through Annecy to access York Road, which provides a shortcut to the Nolensville High School and Mill Creek Middle campus.
The primary "gotcha" in Silver Stream is that two streets (Nolita Lane and parts of Orchard Street) face Rocky Fork Road. There is a thin landscaping barrier separating Silver Stream from the busy street. Having visited a couple of homes off of Orchard, I can attest that traffic can be heard from the interior front entrances of these homes, even with the front door shut.
The second "gotcha" is that Silver Stream is not inside Nolensville town limits. It was never annexed into the city, which has a few impacts we should discuss.
Silver Stream is County Not City
The direct impact of not being annexed into the town of Nolensville (TON) is that residents of Silver Stream cannot vote in local elections.
Secondary to that is access, or lack thereof, to TON services. Nolensville has a volunteer fire department that will respond to Silver Stream; however, TON is building a new fire department. Once Nolensville has its own paid department, the neighborhood will be serviced by the County. The nearest fire station to Silver Stream is off Sunset Road. If the responders from that station are already on a call, Triune is the backup.
Silver Stream is already serviced by county police and emergency services. Both departments are efficient but farther away than the Nolensville Police Department (NPD). The good news is that NPD will step in where needed by responding to calls until County can arrive.
The tradeoff to not being annexed into TON is that residents of Silver Stream enjoy lower taxes as they pay county taxes but not city property taxes.
Finally, it's worth noting that the developer did not have to comply with codes put forth by TON. For better or worse, TON requires new builds to have a sprinkler system, homes in Silver Stream do not have sprinkler systems.
Schools and Walkability
Schools in Nolensville are county schools, so annexation does not impact school zoning. Silver Stream is zoned to Nolensville Elementary, Mill Creek Middle, and Nolensville High School. Regarding getting to school, there are bus routes throughout the neighborhood that pick up and drop off for all three schools but also walking trails.
There are several trail entrances, including one at the end of Canal Street, Grand Street, and Dominick Drive. The trail passes over Mill Creek and goes straight to the high school/middle school campus. Depending on which side of the neighborhood you live on, it should be a manageable walk, with several homes in Silver Stream—primarily those closer to the Canal Street entrance—within the one-mile mark of Nolensville High School.
Unfortunately, walking to Nolensville Elementary is not a great option. No sidewalks down Rocky Fork Road make walking the most direct path unsafe for children. You could technically use the trail system, but it would be terribly inefficient as you would have to cross over Mill Creek, back through the neighborhood of Summerlyn, through Sherwood Green, and even then, you would still have to cross Rocky Fork Road. However, there is a crossguard at that specific crossing.
Sadly, walking to school wasn't always an issue for the elementary kids who live in Silver Stream. Previously, the neighborhood was zoned for Mill Creek Elementary. Neighbors fought the planned rezone, but ultimately lost the battle. Schools in Nolensville are rezoned every few years, so this might once again shift.
Amenities
The walking trail is not only a great way to get to school, but it's also a wonderful amenity for walking and biking.
Beyond access to the trail system, there is a neighborhood pool, sidewalks, and underground utilities.
Finally, Silver Stream seizes the opportunity to make their community fun! They consistently have some of the best Christmas light displays in Nolensville, a packed house for Halloween, and scheduled events like community yard sales and their annual Independence Day celebration. In fact, the Silver Stream firework display is semi-famous in town. It's big, fun, and a fantastic event for neighbors to hang out with neighbors.
Let us know if you have any questions. We live, work, and play here and are happy to help you with your home search in Nolensville and the surrounding areas.