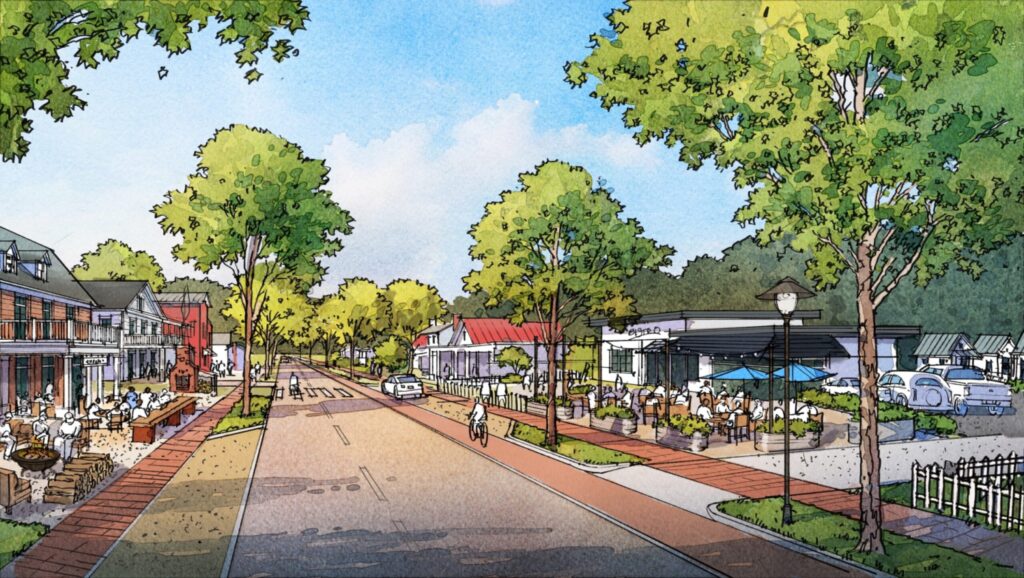 Proposed Nolensville Zoning Changes Include the Historic Downtown District | Rendering Provided by TPUDC and Courtesy of the Town of Nolensville
Nolensville is at a crossroads. Some citizens have a vision of higher-density areas blanketed by rural lands, some prefer to keep Nolensville as a bedroom community, and some sit squarely in the middle.
The town of Nolensville (TON) has already invested over a year and approximately $400,000 of taxpayer money to create a plan with the help of TPUDC—a planning and urban design firm best known for their work in the Franklin community of Westhaven. The proposed Nolensville Zoning Ordinance calls for the preservation of property values and adding areas aimed at increasing tax revenue, allowing the TON to invest in our roads and infrastructure.
Character Districts and the Nolensville Zoning Ordinance
Brent Schultz, Planning Director for the TON, posted the following YouTube video to help explain the plan for "character districts" in Nolensville. A summary of the points discussed in the video can be found below.
Character District One or CD-1 (Natural)
District One will allow for open spaces throughout Nolensville, including active and passive park districts. This land will include land that is not suitable for building and should also help preserve and provide access to more of the creek beds along Mill Creek.
Character District Two or CD-2 (Rural)
CD-2 will include estate lots. The town describes this district as "sparsely settled" and notes that it will consist of both single-family detached homes as well as agriculture. Development within this district will be restricted to 1.1 homes per acre.
Character District or CD-3L (Neighborhood Large)
CD-3L is the most common among all proposed districts in Nolensville. Its primary aim is to protect the neighborhoods that already exist in Nolensville. In scanning the map, I can see CD-3L covering areas of Stonebrook, McFarlin Woods, Summerlyn, Brent Creek, Ballenger Farms, and most of the newer developments in town.
CD-3L allows for two houses per acre and does not allow for duplexes. The original Nolensville zoning ordinance draft did have duplexes in CD-3L, but that plan has since been retracted based on citizen feedback.
Character District or CD-3 (Neighborhood)
According to Schultz, "CD-3 consists of low-density single-family detached residential units zoned at about four houses per acre." This district is characterized by deep front setbacks, medium to wide side setbacks, sidewalks, and streets that work together to form medium to large-sized blocks.
Character District or CD-4 (Neighborhood Center)
CD-4 is a mixed-use district with primarily residential buildings and retail, including personal services, artisan, offices, lodging, and civic buildings. There are medium to little or no front setbacks and narrow to medium side setbacks, making it higher density than CD-3.
Character District or CD-4C (Neighborhood Corridor)
The new zoning ordinance describes CD-4C as "medium density," with about eight housing units per acre. Like CD-4, it will allow for buildings that support residential and retail use. The plan for CD-4C is to create both drivable and walkable spaces accented by sidewalks and trees.
Character District or CD-4V (Village)
CD-4V is the planned character district for Nolensville's historic downtown. CD-4V allows for four units per acre, potentially enabling the TON to create a more extensive, walkable downtown district while also protecting its unique character.
Character District or CD-5 (Village Center)
CD-5 allows up to twenty-four units per acre and is one of the most debated proposed changes under the Nolensville zoning ordinance. What's important to note is that CD-5 takes up minimal land. In fact, only one area is planned to be zoned CD-5—the land that sits on the SW corner of Nolensville and Rocky Fork Road near the proposed Kroger. You can view a color coded map with the proposed zones here.
Character District or CD-H (Hamlet)
CD-H allows for a mixture of different character districts. For example, a developer can mix districts to create a community that provides multiple homesites with access to retail or even new schools. A critical characteristic of CD-H is that the town controls what percentage of mixed-use is allowed. Also, any developer who plans to develop a CD-H parcel will also to commit to leaving 50% open space.
Special District or SD-IV (Industrial Village)
SD-IV is a medium-density area with a mix of building types, primarily residential, retail services, retail sales, personal services, artisan, offices, and industrial. The map shows that the current industrial areas (Haley and Johnson Industrial) will fall under SD-IV zoning.
Civic District or CV (Civic Spaces)
Finally, CV will hold government buildings for the TON, including the town hall, library, post office, schools, and places of assembly and worship.
Density Isn't Everything
It's important to note that Schultz emphasizes that the proposed densities may be somewhat misleading. In most places in Nolensville, you can't build to the maximum densities as laid out by this plan. Developers will not only have to adhere to new zoning requirements and stricter architectural codes, but they will also have to account for setbacks, parking requirements, new landscaping requirements, sidewalk requirements, streets, and of course, stormwater drainage aimed at limiting flooding in Nolensville.
What's Next for Nolensville?
The BOC/Public Hearing on the Nolensville Zoning Ordinance will take place this evening, while the second reading is set for November. According to the TON, "the final adopted Zoning Ordinance will go into effect immediately following the second reading by the Board of Commissioners." (source). Any new developments presented to the town post the passing of the new ordinance will be required to comply with the changes.
You can view a copy of the adoption draft here.