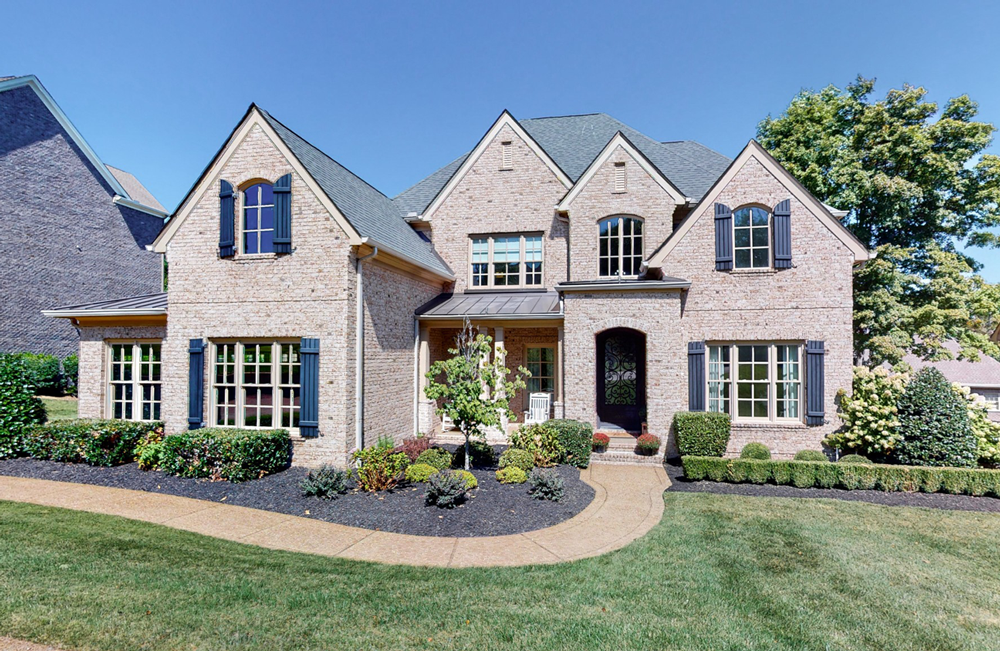 Home in The Governor's Club. Photo and listing credit to Lauren Pennington of The Designated Agency, Inc
Considering a move to The Governors Club in Brentwood, TN? Before you decide, read on to discover the insider secrets and lesser-known facts about this exclusive neighborhood, including the pros and cons you won't read anywhere else.
Opulence Meets Southern Comfort
Last month, we were working with a buyer who wanted to purchase in a gated community in Williamson County. As part of the neighborhood tour, we took her into the Palmer Dining Room. Located inside the clubhouse, the Palmer Dining Room is marketed as an "upscale grill." But upscale, like most adjectives, is subjective.
Yes, the Governors Club has a reputation as a high-end, exclusive neighborhood. Yes, the community certainly has its share of opulence. What you will find, however, is that The Governors Club is a place where opulence meets southern comfort. Inside the dining room, we found a casual, laid-back atmosphere with residents cozied up to the bar in yoga pants and golf gear, and I'm pretty sure one person was wearing pajama pants. As a former Floridian, this display of comfortable dining feels inviting and familiar, but our buyer wanted a formal experience, down to the attire.
While The Governors Club may not be the right fit for everyone, those who value a sense of community and comfort in addition to luxury and exclusivity will find plenty to love here.
It's Not All Custom: The Overlook vs. The Estate Section
When my family and I first moved to Tennessee in 2007, I remember driving by The Governors Club and daydreaming about living inside the gates. Over the years, rumors abounded that the neighborhood was home to Carrie Underwood and other stars, only adding to the fabled legend I had created in my mind.
As a REALTOR®, I've since had the opportunity to tour many of the homes in The Governors Club and have discovered that it's not as unattainable as I once thought. The neighborhood offers a mix of housing options to suit a range of tastes and budgets. Yes, there are mansions so fabulous they're privately gated within an already gated community. For example, the Estate section of The Governor's Club is home to custom builds, some up to 19,000 square feet. However, there's also "The Overlook."
The Overlook was built by two builders—Turnberry and New Mark Homes. The two builders specialize in semi-custom builds. The floorplans of these homes have mass appeal, and the finishes are generally more standard but tasteful. Many of the homes in The Overlook also offer fantastic views, hence the name. In general, The Overlook provides an entry point for those who want to experience the luxury of The Governors Club at a more affordable price point. The Overlook section is found along Missionary Drive, Cherub Court, and Angel Trace.
Resident Amenities vs. Membership Amenities
We can't forget to mention that The Governors Club is one of just a few neighborhoods in Williamson County that is not only gated but offers a 24/7 security team that monitors and patrols. In addition to security, The Governors Club offers a luxury lifestyle with a wide range of amenities, including a golf course, swimming pool, tennis courts, fitness center, and clubhouse. The neighborhood is also known for its social events, such as wine tastings, holiday parties, and charity events. Plus, it's golf cart friendly. That said, living in The Governors Club does not guarantee access to all amenities and events behind the gates.
Residents have access to a residents' amenity area that includes tennis courts and a pool. This area, as the name implies, is for residents only. When you buy into The Governors Club, you pay a $1,000 transfer fee and HOA dues. This fee gives you access to the residents' amenity center, located toward the back of the community.
The larger amenity area is for Members regardless of whether they are residents. What you have access to as a member will depend on the membership level you choose. There's an 18-Hole Championship golf course designed by Arnold Palmer, and practice facilities include a driving range, putting greens, and a chipping area. There are also locker rooms, a pool, a children's pool, and events throughout the year. Finally, multiple dining options exist, including the Palmer Dining Room, 19th Hole Grille, and a Cabana Bar at the Pool. There's also a rumored Men's Grille in the men's locker room, although I need to verify.
The Governors Club Memberships Explained
At the time of writing, there were eight different membership options. If you want the complete list, feel free to contact us, and I'll send it over. For now, I will review three options: Resident, Full Golf, and Bronze.
If you are a resident of the Governor's Club and want to enjoy the social aspect of membership, there is an option called "Resident Social Membership." The Resident Social Membership grants access to the membership pool, clubhouse, and non-golf related social events. To qualify, you must be a lot owner of The Governors Club community and commit to a two-year membership. Members are responsible for paying dues, guest fees, and food minimums. There is no initiation fee, but this option will raise your monthly dues by $75.
The Full Golf Membership is designed for those who love to hit the links. With unlimited golf included, members don't have to worry about green or cart fees. However, the member is responsible for guest fees, food minimums, and other associated fees. Full Golf Members also enjoy unlimited access to the club's pool and exclusive entry to the clubhouse. They can participate in all golf and social events organized by the club. So, if you want to perfect your swing and meet new friends, the Full Golf Membership is your ticket. This membership requires a $25,000 non-refundable initiation fee; the dues are $790 monthly.
Bronze Members at The Governors Club can access all pool and clubhouse privileges and non-golf related social events. Bronze Members may play golf up to 12 times per year on Tuesdays, Wednesdays, and Thursdays but must call ahead to check for availability. The non-refundable initiation fee for Bronze Members is $7,000, and the dues are $195 monthly. In addition to dues, Bronze Members are responsible for paying guest fees and fulfilling food minimums.
Other membership options include a payment option for members under 40, a refundable option, and corporate, senior, and national memberships. Again, if you want all the details, contact us.
Utility Easement and Sidewalks
There are two random things to be aware of in The Governors Club, and this feels like a good time to share.
First, there's a utility easement that runs through the neighborhood. The easement runs near the intersection of Governors Way and Colonel Winstead Drive. There are homes on both streets that sit right next to power lines. Homes on Camelback Court and Applerock Court also back up to the easement.
Second, sidewalks in The Governors Club are limited, especially throughout The Overlook. Also, although some areas do not have sidewalks, the neighborhood is hilly, which may hinder those who want to walk, bike, or otherwise move along.
Location and Schools
The Governors Club is located in the heart of Brentwood, one of Nashville's most desirable places to live. It's still a relatively quiet, residential area, but there's easy access to i65 and nearby shopping in Cool Springs. Also, as the neighborhood is in Williamson County, zoning for Williamson County schools is a given. While the specific school you're zoned for is subject to change, at the time of writing, The Governors Club was zoned for Crockett Elementary School, Woodland Middle School, and Ravenwood High School.
The Governors Club vs. Other Gated Communities
We keep a comprehensive list of all gated communities in Williamson County here. However, we can also make a quick comparison by focusing on three neighborhoods and their differences. The most comparable neighborhoods to The Governor's Club are Troubadour Club, Kings Chapel, and LaurelBrooke, all in Williamson County and have manned gates.
The Troubadour Club has the highest entry point of these four options, with the least expensive home sold this past year topping $3,000,000. Beyond price, location is an obvious differentiator. The Troubadour Club (TTC) is a newer neighborhood located in College Grove, an area that still has significant land for development. TTC also offers more amenities. Amenities at TTC but not at The Governors Club include a sports center, sports courts, professional fitness and sports staff, a full-service spa, adult pools, equestrian amenities, a general store, trails, parks, a fishing pond, and fiber optics.
Kings Chapel is a newer community in the rural area of Arrington, Tennessee. The neighborhood provides a more affordable entry point. This past year, the least expensive home sold in Kings Chapel went for 950K (compared to 1.4M in The Governors Club). When comparing amenities, the most significant difference is that Kings Chapel does not have a golf course. It does offer trails, parks, and fishing ponds, amenities not found at The Governors Club.
Finally, the least expensive home sold in LaurelBrooke this past year went for 1.4M, putting it on par with The Governors Club. It also has the most comparable location. Though LaurelBrooke is technically in Franklin, it's near the Brentwood border. LaurelBrooke is closer to Green Hills, while The Governors Club is closer to Cool Springs. LaurelBrooke does not have a golf course though it's close to several country/golf clubs. In fact, it's right across the street from Old Natchez Country Club and certainly drivable to many others, including Richland Country Club, Harpeth Hills, Harpeth Valley, and more. Second, LaurelBrooke has stocked fishponds and trails.
If you feel like The Governor's Club is the place for you, we would love to show you around!