Our town is one with a rich history and a bright future, and after a successful closing this week on a valuable and semi-controversial piece of land, Nolensville is set to embark on a transformative journey with the Village Overlay project—a project poised to reshape the heart of our community.
The Land
The land in question is a 27-acre parcel that sits near Nolensville's Summerlyn subdivision, running down to the corner of Nolensville and Clovercroft Road, across from the Nolensville Cemetery. For those familiar, the parcel is north of the property slated for the Kroger development.
The land was recently rezoned with a village overlay as part of a massive rezoning project by the town of Nolensville. The rezoning allows for higher density, attracting developers who share a vision for a transformed Nolensville.
To give you a better idea of location, I've circled the Nolensville Village Overlay project in pink and Summerlyn in orange (see photo below). You can view the original map on the town of Nolensville's website.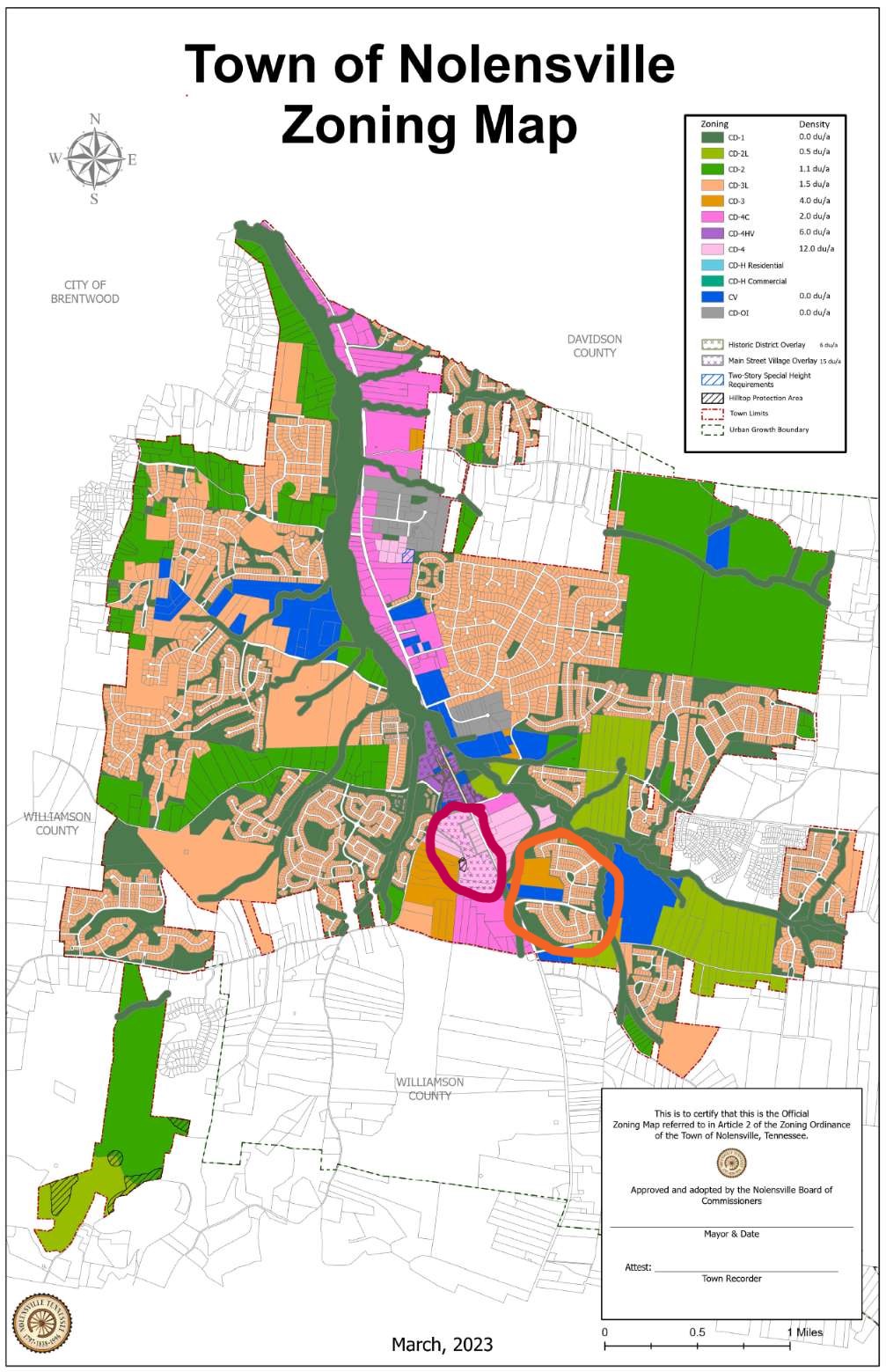 The Developers
Nolensville's Village Overlay will be developed by local investors, including the Rochford Group and Land Innovations.
In a recent correspondence with Trey Rochford, Matthew and I delved into the development of Nolensville's Village Overlay. Trey shared with us that they are getting "closer and closer to a final design."
Trey's involvement in the project brings a unique perspective, backed by a track record of success, including his work on the esteemed Stephens Valley community.
Trey's dedication to crafting spaces that transcend eras is evident not only in his professional endeavors but also in his personal life. He resides in a home that exemplifies his commitment to timeless architecture and building spaces that stand the test of time. When you talk to him about history and architecture, it's evident that it's his passion. And it's that commitment that gives us hope that he will create something for Nolensville that will be more than just a place; it will embody Nolensville's character and heritage.
The Vision
The Village Overlay project will include mixed-use buildings with retail shops and restaurants on the ground floor and residential units above. The initial concept is set to encompass approximately 60,000 square feet of commercial space, breathing life into our town.
One of the key benefits of the Village Overlay project is its potential to boost our local economy. With new businesses, shops, and restaurants, the town can anticipate increased foot traffic and greater economic activity.
Beyond that, the idea is to create a gathering space for residents. Imagine cozy cafes where neighbors can chat, charming boutiques, and space for our growing community events that, as we all know, have outgrown the very limited spaces we now have to hold them.
All this said, I know that change can be frightening, but the experts involved and our elected officials are working hard to ensure that this new space embraces Nolensville's unique character.
Nolensville Village Overlay: Impact on the Historic District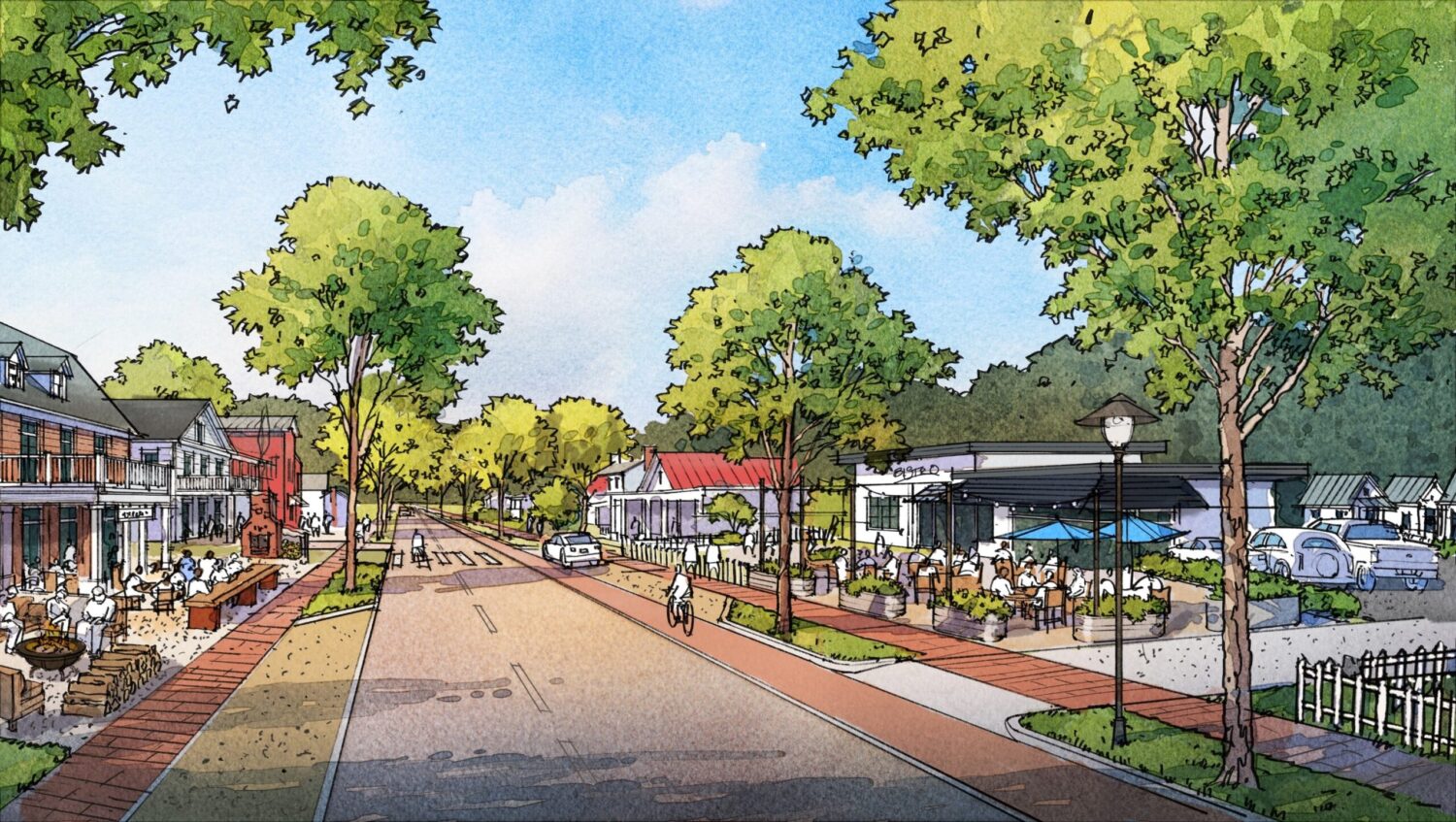 Rendering by TPUDC of what Nolensville's historic district could look like.
As Nolensville looks to the future with the Village Overlay project, it's crucial to recognize that these developments are not meant to replace our historic district but to complement it. The town is already taking tangible steps to enhance the historic district's pedestrian-friendliness, with planned improvements on the horizon.
Currently, navigating certain areas of our historic district can be challenging and even hazardous, particularly along busy Nolensville Road. The forthcoming enhancements include the installation of two new sidewalks, designed with a width of 10′, bike paths, and street-side parking. This much-needed initiative addresses a longstanding concern: the current lack of safe pathways within the historic district.
The first phase of this pedestrian-friendly initiative is set to commence in the upcoming fiscal year. Simultaneously, the recent rezoning of the area, coinciding with the creation of the Village Overlay, underscores the town's commitment to bringing more visitors to Nolensville's historic district.
What's Next
During our chat with Trey we learned that once they have the final design in hand, they will present that plan to the city. From there, it's into review and revision, before presentation to the town of Nolensville's Planning Commission for approval. It's a long and difficult process, but they are committed to seeing it through, and if all goes according to plan, Nolensville may soon witness the exciting transformation of the Village Overlay Project into a vibrant hub that defines our town's future.