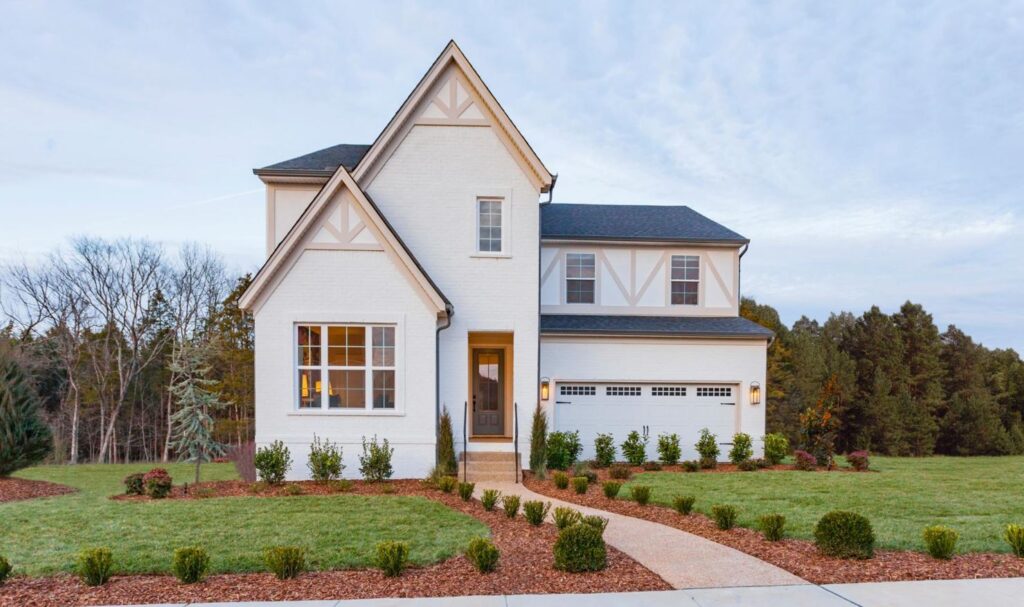 Telfair Nolensville TN represents the new Nolensville well. Most of the existing neighborhoods in town feature one, maybe two builders, who developed with a highly suburban feel. Telfair, along with other newer communities like Annecy and Scales, presents a balance between suburban and new urbanism. The neighborhood offers a range of housing options and focuses on shared communal space. In this article, we'll take a closer look at Telfair in Nolensville TN and what it provides, including the different builders who have contributed to its development, location, schools, and amenities.
Telfair Builders
One of the unique features of Telfair is that it offers a variety of housing types, including smaller, cottage-style homes, typical suburban homes, and custom homes that sit on 1-acre lots. Homes in Telfair were built by several builders, including Drees Homes, Celebration Homes, DeFatta, Barlow, Achilles Custom Builders, and Bates Construction. Let's take a brief look at each of the builders.
Drees
Drees started building in Telfair in 2017. They focused on two series of floor plans: the Concord and Millennial. The Concord plans started from the mid $500's while Millennial started in the low $400's. Pretty wild, right?
Millennial Series
The Millennial plans were launched first off of Edenfield Pass, emphasizing a smaller footprint and affordability (relative to the area). The homes in this series were all initially built under 3,000 square feet and have a craftsman cottage feel with two-car garages and smaller lots.
The Drees' Millennial plans include the Kinsley, Collette, Adeline, Abigail, and Adelaide plans that Dress continues to build in Annecy. The Everly is also a part of this series and has a similar "shotgun" style layout but can top 3,000 square feet depending on options added pre-construction.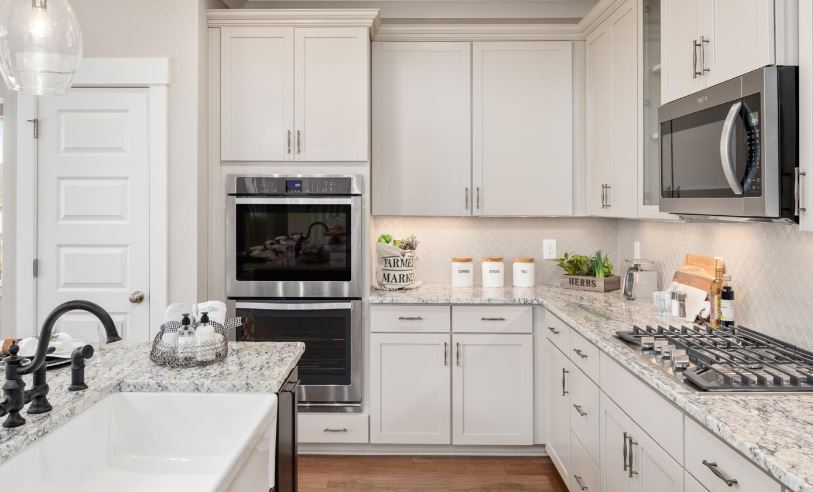 The Kinsley kitchen as built by Drees.
Concord Series
The Concord series features nine one and two-story floor plans that are larger than the Millenial plans and made to fit on larger lots. The homes have full brick and stone exteriors, and side entry, three-car garages. Plans from this series include the Oakdale, Celestial, Colton, and Somerville.
Celebration Homes
Celebration initially built along Dunmeyer Court. The floor plans they built at Telfair in Nolensville include The Landon, Barrington, Berryhill, and Williams. Most plans include side entry and three-car garages with over 3,000 square feet of living space. The homes are most comparable to Drees' Concord series.
DeFatta
DeFatta also built in Telfair on some of the larger lots along McClellan, Crab Orchard Lane, and Delamotte Pass. They constructed several of their plans in the neighborhood, including the Merlot plan, River Bend, Malbec, Riesling, and Aberdeen. The Merlot is the most popular plan found in Telfair. It's a four-bedroom plan with an optional fifth bedroom.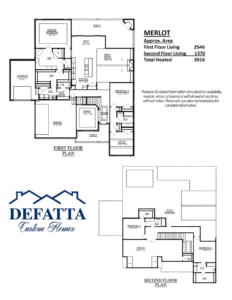 Floor plan property of DeFatta, click to enlarge.
Barlow | Avenue Homes
Barlow/Avenue Homes picked up several lots along Telfair Lane, as highlighted in green on the plat map pictured below. Please note that this map is now outdated as all of the lots have been sold, but it does help highlight the homes built by Avenue Homes.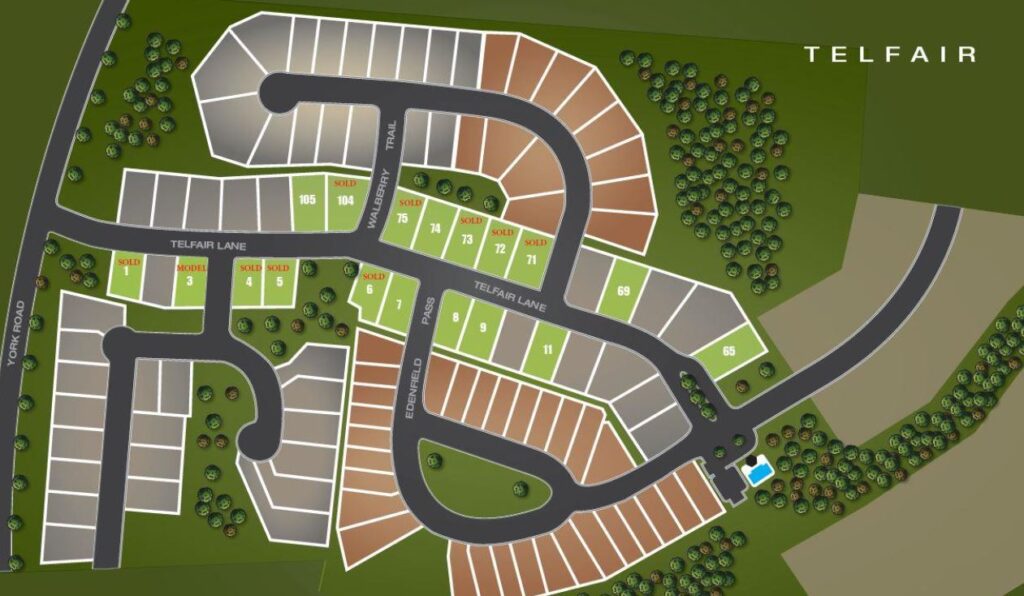 All of Avenue's lots in Telfair are .25 acres or larger and thus fit several of their semi-custom plans, including The Garrison, Tucker, and Mableton. Avenue Homes also built custom floor plans in the neighborhood, including the home at 805 Delamotte Pass.
Avenue Homes are all brick and include three-car garages with over 3,000 square feet of living space.
Achilles Custom Builders
Achilles Custom Builders also built homes in Telfair Nolensville. They constructed five homes using three floor plans: Hermes, Artemis, and Athena.
As is standard to fit their building style, Achilles' lots are closer to a half acre. 1124 McClellan, for example, is .46 acres, large enough to accommodate their almost 4,000 square-foot Artemis plan. 1145 McClellan is .63 acres and fits their 4,536 square foot Athena plan.
Bates Construction
Finally, Bates Construction built a few estate homes in Telfair. Permits show that they were approved for a 4,951 square foot home on Lot 47, a 4,829 square-foot home on Lot 46, and a 4,949 square foot home on Lot 49. Though these lots are all part of the Telfair HOA, they are all located off Sanford Road and on 1-acre lots.
Homes off of Sanford Road
Let's wrap this up by digging in more on the homes off Sanford Road. While part of Telfair, it's easy to believe the Sanford homes are not. They do not connect to the main part of Telfair via a roadway, but there is a walking trail that leads to the community pool.
Despite their address, the homes off of Sanford are not directly off of Sanford. Instead, they are set back slightly and separated by a private road. The back of the lots back up to other homes in Telfair, but there's a generous distance between the two and a thin tree line. The satellite image below is a bit dated as the walking path was not yet created, but it illustrates the setback and distance between the other houses well.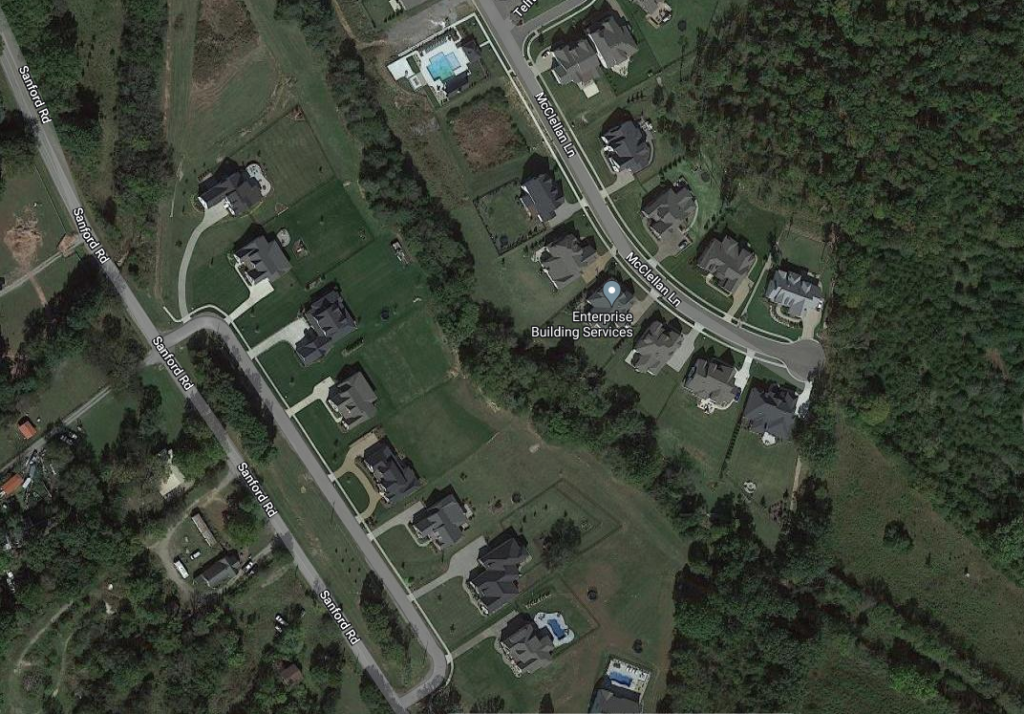 As mentioned, some of these homes were built by Bates construction while a few were built by DeFatta.
Telfair Nolensville TN Location and Schools
Telfair's location in Nolensville is near everything "coming soon," including the to-be-built fire station, Kroger, and the town center. However, there is one barrier for those who live in Telfair, and that's York Road.
No matter where residents want to go by foot, bike, or car, they must travel York Road. While there is a temporary stoplight at York and Nolensville Road, it is still considered a tricky intersection. The good news is that York Road will be improved within the year, which may not ease traffic but will make it safer to navigate.
For pedestrians, including the Telfair kids who walk to the nearby school complex, the town of Nolensville installed a crosswalk near the York Road and York Trail intersection.
Currently, children who live in Telfair are zoned for Mill Creek Elementary School, Mill Creek Middle School, and Nolensville High School. Though kids must cross York Road, the neighborhood is incredibly close to all three campuses. The walk from the front of the community to Mill Creek Elementary is just .2 miles.
Amenities
One of the pros of living in Telfair Nolensville is the abundance of amenities. The neighborhood offers a community pool, green space, playground, picnic, sidewalks, and walking trails.
One potential downside of Telfair is that it doesn't offer direct access to walking trails outside the community. Once again, the residents must cross York Road and then pass through the school complex to link up to the trails, creating a minor separation from the rest of the town.
One random amenity worth mentioning is that homes in Telfair Nolensville have their own mailboxes. It seems strange to note that as an amenity, but newer developments in Nolensville have community mail centers, and walking to the edge of your drive to grab the mail just hits differently!
If you're interested in Telfair Nolensville TN or want to learn more, contact us. We would be honored to help you with your home search.
The featured photo is of the Kinsley plan Drees model home in Telfair.