Things to Know About Benington in Nolensville TN
If you're considering a move to Nolensville and searching in the $1M+ price range, Benington in Nolensville TN is likely to cross your radar. It's a community that is a testament to refined living and small town charm with picturesque homes and well groomed lawns. While some things about the Benington neighborhood are apparent, today we will uncover the features that make this community one of Nolensville's most sought-after, and we will also delve into the lesser-known facts that you should know if you're considering a purchase in Benington in Nolensville TN.
1. The Size of the Community, the Houses, and Builders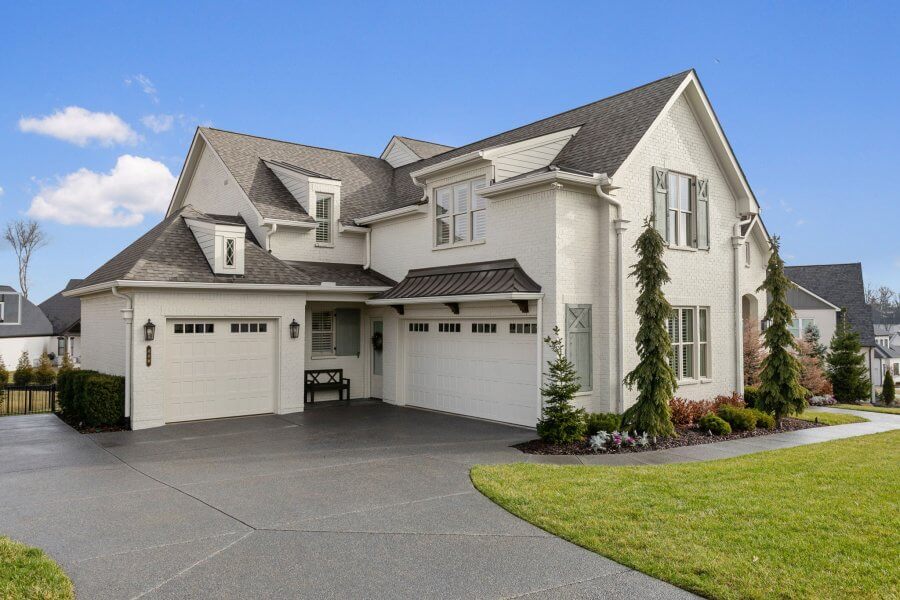 A Tennessee Valley-built home photographed by Home Pix Media
Benington in Nolensville TN is one of the larger subdivisions in town, with approximately 194 homes.
The median size of homes in the Benington neighborhood is a substantial 4150 square feet, with a median age of ten years, and that is one of the unique things to note about Benington: It is both an established neighborhood and a neighborhood with newer construction.
The community's development began on the streets closest to Sunset Road in 2006 and continued through 2022, when builders started to develop the back of the community, mainly along Belgian Road.
Local builders, including Barlow Builders, Grove Park Construction, DAC New Homes, Tennessee Valley Homes, and Defatta Custom Home, all contributed to the homes you see in Benington. They also contributed to the architectural variety seen in the neighborhood. The builds are both uniform and unique at the same time.
2. Amenities Plus Two Gotchas
One of the standout features of Benington is the size of the lots. All homes sit on beautiful half-acre estate lots, many backing up to tree lines, which is an amenity unto itself.
As far as shared amenities, you'll find underground utilities and sidewalks. In Benington, I almost always see someone taking a stroll or walking a dog. It's a very active community emphasized by the connection to the Nolensville trail system.
Two entrances lead to the Benington neighborhood off Sunset Road, including Benington Place and Briarcliff Drive through the Winterset Woods neighborhood—more on that later—and both connect to the multi-use path known as the "Nolensville trail system."
From the trail system, you can walk, bike, or roll straight to the heart of Nolensville or head to the Williamson County Recreation Complex.
Now, let's talk about the gotcha: One of the most important things to know about Benington in Nolensville TN is that it is its own neighborhood, but it shares a board and amenities with Winterset Woods. I have heard from at least two homeowners who purchased a home in Benington from a REALTOR unfamiliar with Nolensville who had no idea they would share a community pool with so many people. Shared amenities include the pool, a kiddie pool with a mushroom fountain, a play set, and a soccer field.
If sharing amenities with another neighborhood is a concern to you, a reminder that the yards in Benington are generous, with more than enough room for a playset or perhaps even a private swimming pool.
Another Gotcha
On a similar note, Benington not only connects to Winterset Woods, but will connect to a new neighborhood that is to-be-built. The neighborhood will be called "Telluride" is slated to be developed by Turnberry Homes, a popular builder who has also built in Sinatra, Annecy, Arrington Retreat, and more.
While Telluride will have its own entrance off of Split Log and not share amenities with Benington/Winterset, it will connect to Benington near the corner of Benington Place and Watertown Drive. This connection may cause some cut-through traffic between Telluride and Sunset Road.
3. Benington School Zoning
Benington in Nolensville TN, is convenient to the Sunset school campus, which houses both Sunset Elementary and Sunset Middle. The multi-use paths are busy before and after school, with children walking and biking. While the kids have to cross Sunset Road, a cross guard sits at the intersection to help direct traffic.
Some homes in the neighborhood will be less than a mile from the Sunset Campus, while homes in the very back of the community are approximately 1.7 miles. The high school, on the other hand, is farther.
Benington is zoned to Nolensville High School, which is not connected by a pathway. Thankfully, the school district provides bus service, and despite the community's proximity to the elementary and middle schools, bus routes are also an option for elementary and middle schoolers.
Sunset Elementary
Sunset Middle School
Nolensville High School
How much are homes in Benington in Nolensville, TN?
Home prices in Benington in Nolensville TN, were up 32% year-over-year at the close of 2022, with a median property value of around $1.2 million, making it one of the most expensive neighborhoods in Nolensville. Prices through the first half of 2023 climbed slightly, with an average sales price in Benington of $1,340,798.
How Convenient is Benington?
Convenience is one of the most attractive things about the Benington subdivision and most subdivisions along Sunset. The location is convenient to Historic Downtown Nolensville and Concord Road for i-65 access. To the west of Benington, you can get to i-65 off Concord Rd in approximately 15 minutes and to Downtown Nashville in about 30 mins. Not to mention all the shopping available in Cool Springs is less than 20 minutes away, and Downtown Franklin is less than 30 minutes.
And while Nolensville has plans to add grocery stores, a grocery store in Nolensville is not a reality yet. For many in Nolensville, that's a bit of a pain point, but there's easy access to the Concord Road Publix and Concord Village Kroger bypassing Nolensville Road traffic via Waller Rd, which can be, depending on the time of the day, a big time saver.
Also, as you now know, Sunset Elementary and Middle are about a mile away, which is ideal for those with school-age children. There are also at least four churches within a mile of Benington and plenty more throughout Nolensville.
The Streets of Benington
Benington Pl
Walkabout Ct
Bull Run Ct
Wolf Creek Dr
Pumpkin Ridge Rd
Baston Ct
Bering Ct
Erlinger Dr
Steel Ct
Eaves Ct
Allred Ct
Delaware Ct
Delaware Dr
Belgian Rd
Peruvian Ct
Oldenburg Rd
Lusitano Ct
Conoga Dr
Watertown Dr
Homes for sale in Benington
Below is a link to homes currently for sale in the Benington subdivision. If you have any questions about the area that we can answer, please reach out.